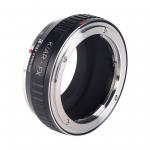 Modelo: KF06.152
Adaptador Lentes Konica AR para corpo Fuji X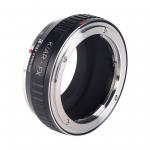 I previously purchased a different brand of adapter to use Konica Hexanon AR lenses on Fuji X bodies. I returned it as it did not allow me to easily change aperture on the lens. As with many lenses from various SLR manufacturers, the aperture control ring is positioned at the throat of the lens mount on the camera body. The first adapter I purchased apparently was out of machining tolerance, as the aperture ring bound up - I had to actually loosen or remove the lens from the adapter to change apertures. Obviously this was not correct, much less optimum!This adapter has no such issue. I haven't checked to see that the depth of the adapter is perfectly even all the way around, but some initial, but very casual, test shots looked good. I've uploaded one test shot, made with the Hexanon 40/2.( © 2016 Earl Dunbar)After further testing I will update this review. For now I give it four stars because it actually worked and was a good price.
2016/10/16 00:00:00
Adaptador Lentes Konica AR para corpo Fuji X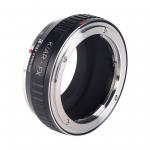 The adapter is very nicely build from metal. The adapter was initial stiff from both sides. The adapter fits and snaps perfectly on the body and the lens after one or two tries. The adaptor came rapped in bubbles inside a well made plastic box. The international shipping was more that excellent for the cost.
2018/04/06 10:23:08