B210 Tripé de fibra de carbono leve com 2 seções Coluna central / Acessórios metálicos / Caixa / Cabeça esférica de 360 ​​° / para Vlogging Viagem para Canon Nikon Sony Olympus Camera
Out Of Stock
Product Unavailable
No Cancellation Fee
&Frete GRÁTIS nos países elegíveis
Marca:

K&F Concept

Compre K&F Concept b210 tripé de fibra de carbono leve com 2 seções coluna central / acessórios metálicos / caixa / cabeça esférica de 360 ​​° / para vlogging viagem para canon nikon sony olympus camera online, frete grátis e garantia de devolução de 30 dias.

KF09.077

Em stock:

Out Of Stock

600

https://br.kentfaith.com/KF09.077_b210-tripé-de-fibra-de-carbono-leve-com-2-seções-coluna-central-acessórios-metálicos-caixa-cabeça-esférica-de-360-​​°-para-vlogging-viagem-para-canon-nikon-sony-olympus-camera
Compre mais de 2 itens e receba

10% de desconto

!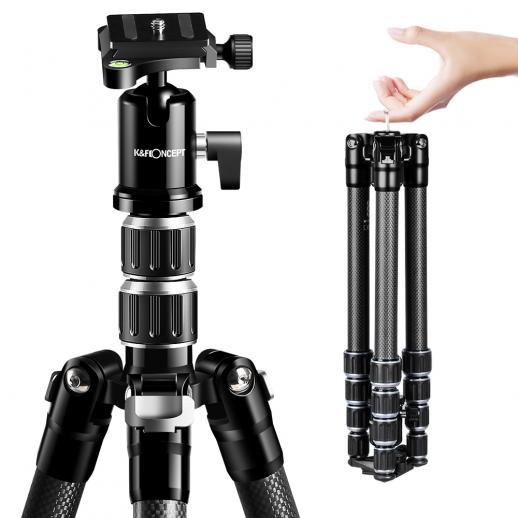 B210 Tripé de fibra de carbono leve com 2 seções Coluna central / Acessórios metálicos / Caixa / Cabeça esférica de 360 ​​° / para Vlogging Viagem para Canon Nikon Sony Olympus Camera
Jellemzők
• 【Alto desempenho em formato compacto e leve】 O tripé é feito de fibra de carbono, as pernas são projetadas em 5 seções, o tripé é tão leve que seu peso é quase imperceptível. Ele pesa apenas 1.008 kg, capaz de suportar cargas de até 10 kg. Você pode obter um tamanho compacto de 36 cm depois de dobrar a 180 °, permite colocá-lo em sua mala ou em uma mochila de trekking, pode tirar fotografias ou Vlog em viagens com mais conforto e facilidade.
• 【Coluna central projetada em 2 seções】 O tripé para câmeras SLR possui uma coluna central de 2 seções, permite ajustar uma altura máxima de 155cm e uma altura mínima de até 36cm, este tripé é tão portátil que o torna um excelente companheiro para suas viagens. A coluna central pode ser fixa ou ajustada para deixar a câmera no nível do solo, muito útil se você pratica fotografia macro.
• Locks Bloqueios de rosca e metal】 Todos os bloqueios são metálicos, para melhorar significativamente a vida útil do tripé. O fechamento da rosca das pernas é fácil de desmontar e limpar; As pernas têm pontas de borracha, para uma fácil aderência em qualquer superfície. A parte inferior da coluna central possui um gancho para proporcionar mais estabilidade e diminuir o centro de gravidade adicionando um reator, como uma bolsa ou uma mochila.
• 【Fazendo panoramas de 360 ​​°】 A cabeça esférica 3D com escala graduada permite rotação panorâmica de 360 ​​° e orientação ideal nos formatos vertical e horizontal. Consiste em uma trava horizontal independente para maior precisão em fotos panorâmicas e foi projetada para uso com roscas de 3/8 "e ¼".
• 【Serviço pós-venda】 Garantimos um período de devolução de 30 dias sem obrigação e sem explicações, além de uma garantia de 360 ​​dias. Para qualquer dúvida, não hesite em entrar em contato conosco, nosso serviço ao cliente dedicado entrará em contato com você em menos de 24 horas.
Tripé de fibra de carbono leve
Coluna central de 2 seções / Acessórios metálicos / Caixa / Cabeça esférica de 360 ​​° /
para Vlogging Travel for Canon Nikon Sony Olympus Camera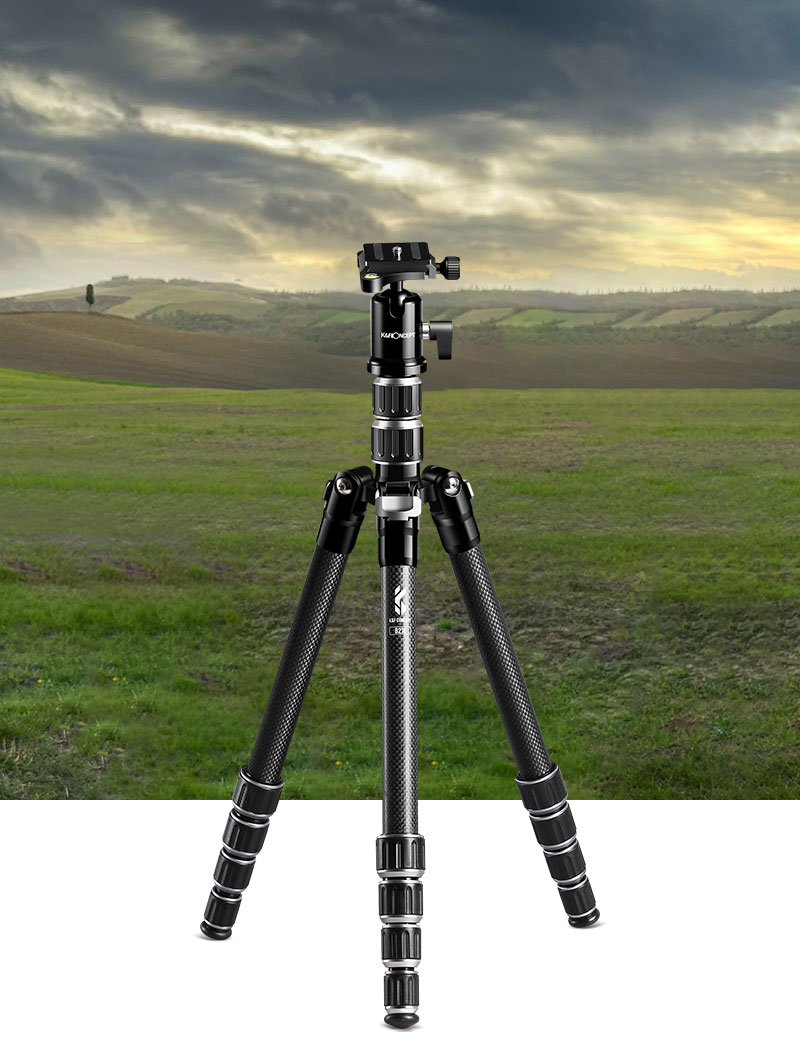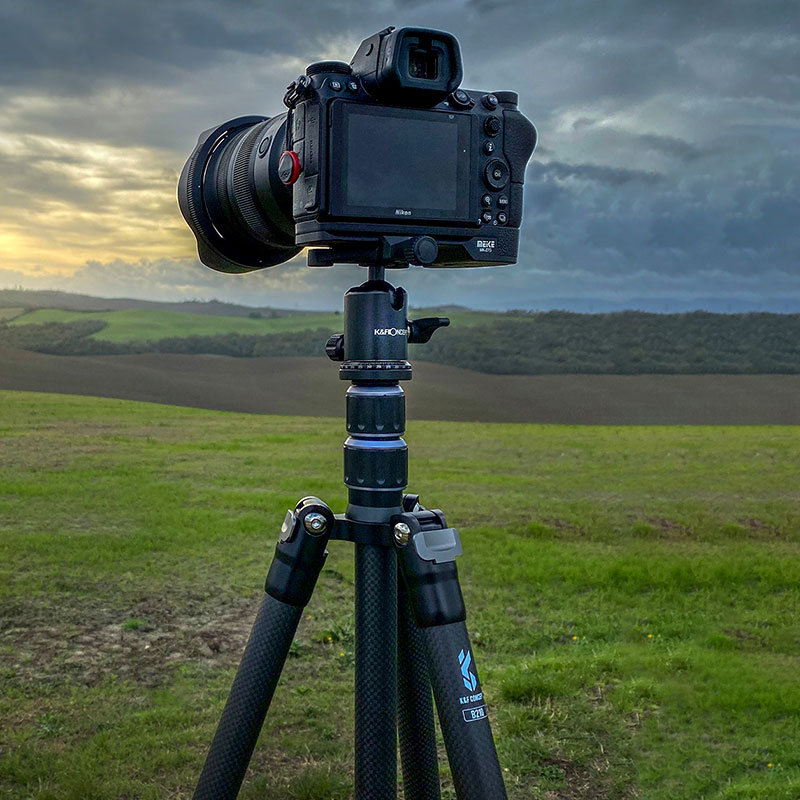 Seções 5

Altura mínima
16,3 ″ (41,5cm)

Altura máxima
60,0 ″ (155cm)


14.2 ″ dobrado (36cm)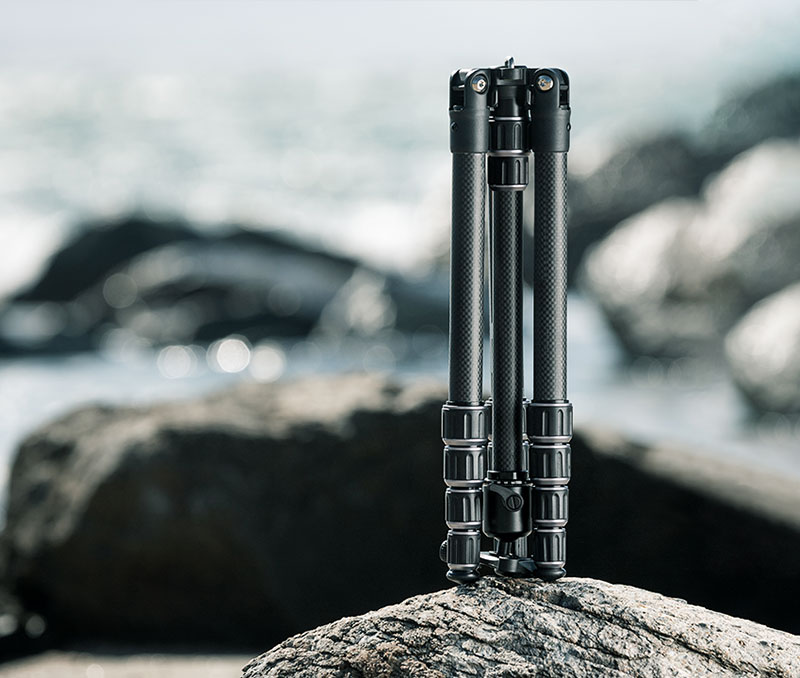 2,2 lbs / 1kg
Tripé de fibra de carbono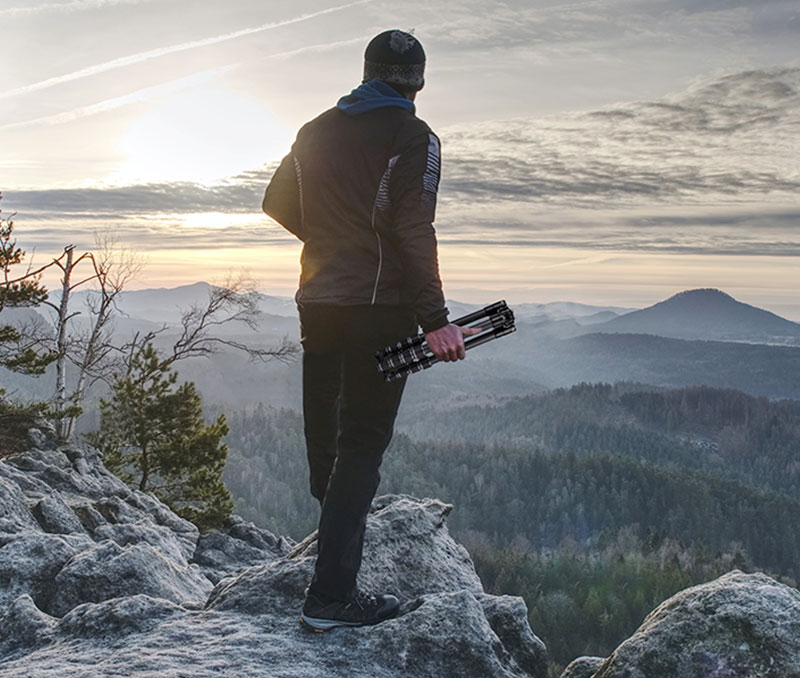 16 polegadas / 36 cm
Leve e fácil de transportar
Fotografia panorâmica de 360 ​​°
Síntese panorâmica mais precisa.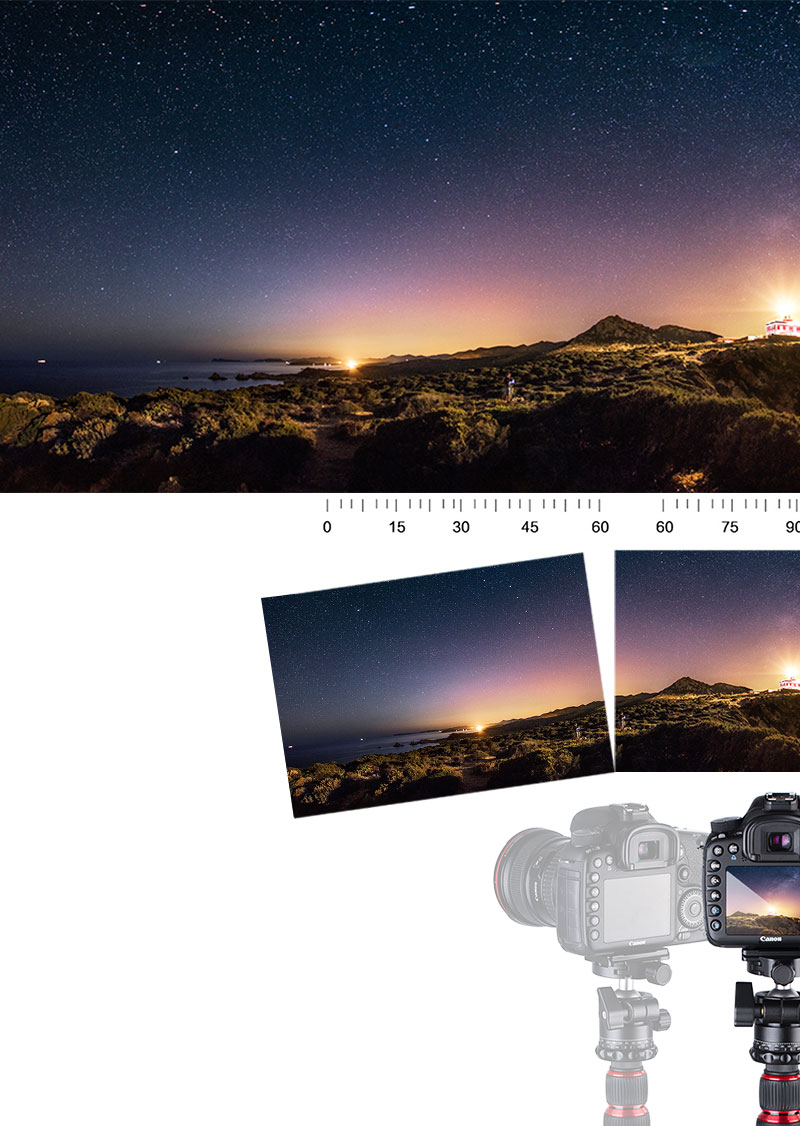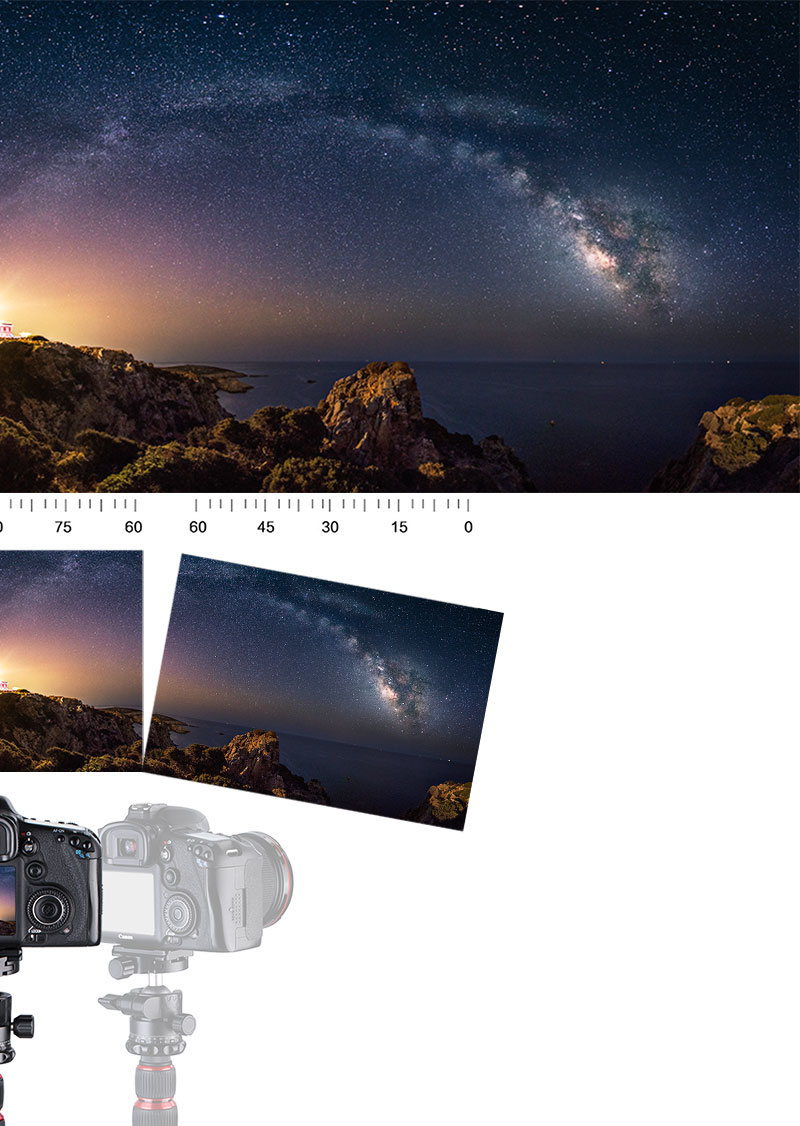 2,2 lbs / 1kg
Tripé de fibra de carbono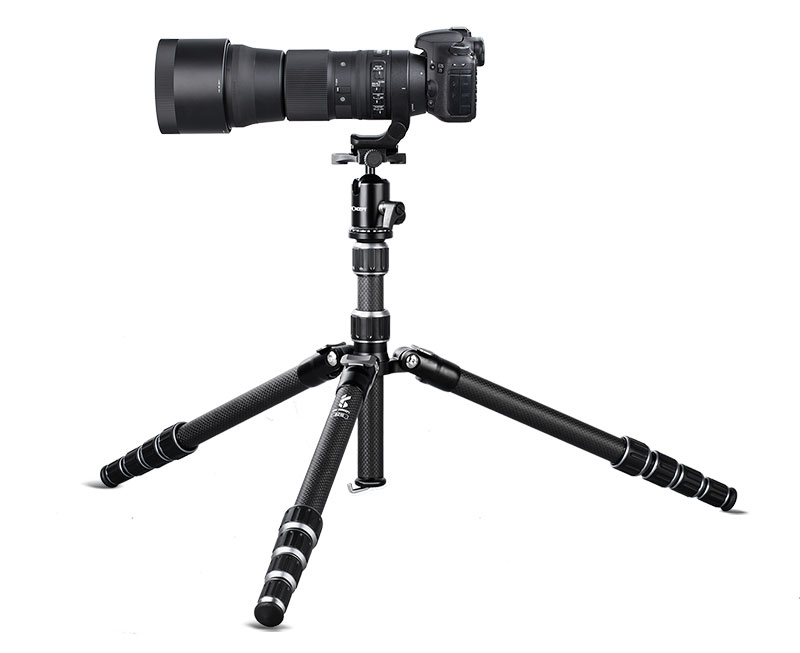 Fotografia em ângulo baixo
Alcançado através do eixo central invertido.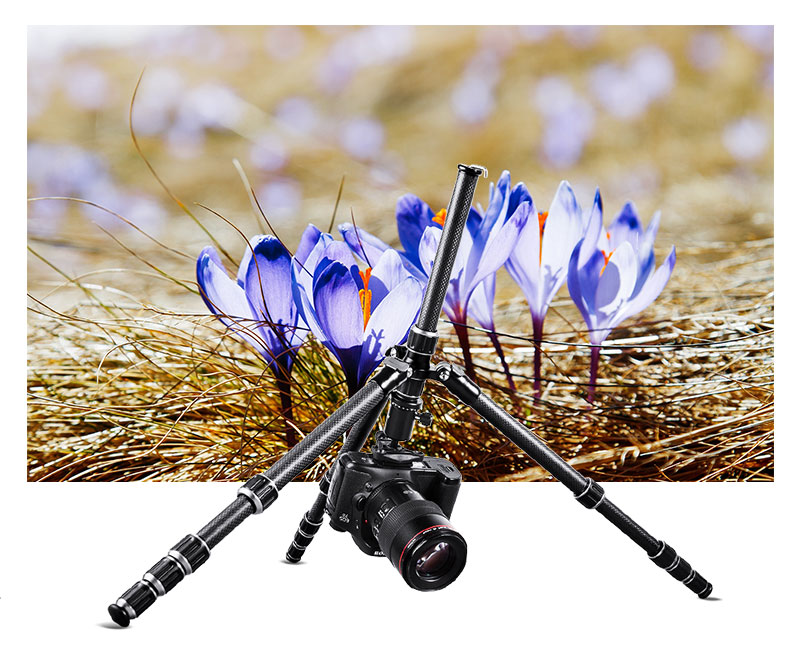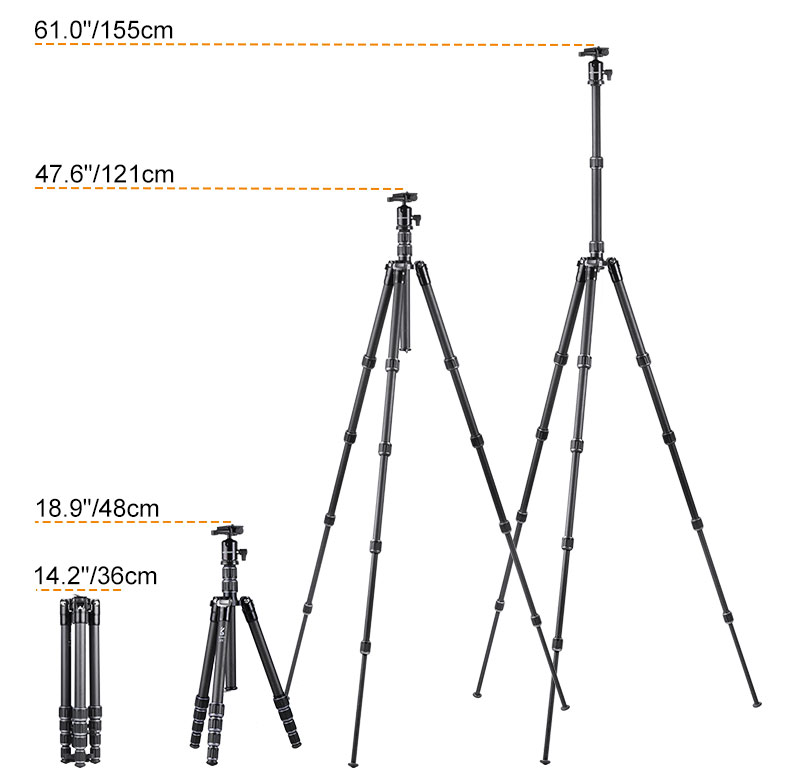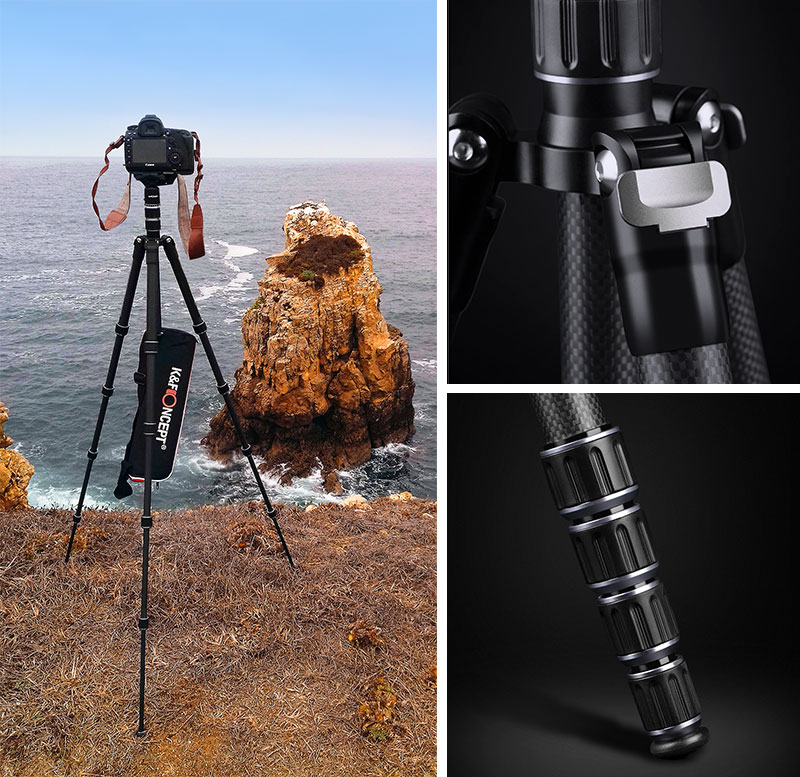 Light weight and compact
So far so good hope this one last longer than my last one
Landscapes - not quite low enough, ball head hmmm . . .
2 tripods purchased - this at 2LBS 3.6OZ and another that weighed nearly 4LBS - and concluded that 4LBS is not suitable for long hikes. At 61" it is about as high as can be viewed standing, but with the low end at about 13" (& then add camera height) there are likely situations where I'd like to go lower - some of the best landscape framings are closer to the ground. Reversing the center post would allow it to go lower but shooting with the camera upside down is not for me. If K&F were to provide an ca.5" accessory center post this would solve the problem - as far as I can find there are no 3rd party post extensions of 23mm diameter that could be cut to size. I can't speak to how long it will last but the quality seems excellent and exceeded my expectations, maybe better than my larger Manfrotto and similar to my max size Gitzo. And fwiw it's a cute tripod. When stability is an issue I tether small tripods from the center hook with a 7" three blade aluminum tent peg + guy string and synch it tight. Regarding the ball head - for me more cons than pros. It is very light and can easily hold steady my 3-4LB camera+lens combinations. However, the arca plate clamp section is made of a plastic resin, looks like two halves glued together - in contrast the excellent lightweight plate that attaches to the camera is made of metal (CNC cut aluminum?). The chief issue here is that one side of the actual clamp is in the form of a bridge, it is not solid. My concern is that a break here might be catastrophic for the camera or lens. Not likely to happen if you're careful, but stuff happens in real life and for me that's maybe too many $ riding on that resin bridge. A second issue is that the housing and screw that connects the clamp to the ball is slightly raised, probably to provide extra strength because metal clamps generally have the screw recessed. This extra height bumps into both my longer plates that slide along the clamp (mine are 85mm and 100mm long) and prevents being able to use their full length to set the camera+lens center of gravity over the center of the ball head. Because I like the tripod (and it may be unique for its height/weight combination), I looked for a replacement ball head. Two look promising: the $49 Sunwayfoto and the $40 K&F. The former was recommended on the phillipreeve landscape website. This head is all metal (only a couple ounces heavier) and has the advantage that by partially synching the ball you can smoothly position the camera without having to support its weight. But I find the knobs are not as easy to use as those on the original K&F ball head. I haven't yet checked out the $40 K&F, but it looks promising and has the better ball synching knob.Update September 4th: The weights of the 3 ball heads are: original K&F 5OZ, $49 Sunwayfoto 7.3OZ, $40 K&F 7.8OZ. Comparing the two expensive heads. They have a similar load rating. I prefer the more CNC production of the $49 versus the Magnesium + something alloy of the $40 which is cast and has bits glued - I think the $49 will last longer. The knobs on the $40 K&F are better than its $49 rival, but strangely enough I still like the knobs of the original K&F best. Note that the Magnesium is softer than the CNC and I scratched the base just attaching it to one of my tripods, so I won't be able to take advantage of the free returns. It's decent enough so I'll use it on one of my other tripods. The $40 comes with an arca plate, the $49 does not, but again I prefer the original arca plate included with the K&F tripod - it's a bit lighter and the screw can move for positioning ($40 is fixed) and the shape is more standard, the $40 plate being narrower and pointlessly (imo) a bit longer. A final point on the shapes of the arca plate clamps - the Sunway is your standard rectangular clamp which per ounce of clamp weight seems to maximize the amount of contact along the edges of the inserted plate. In contrast K&F has opted for a triangular (original) or circular ($40) clamp. In summary, I prefer the the knobs and ergonomics of the included K&F compared to both the more expensive add on plates, but do not like its resin plate holder. A lightweight CNC rectangular plate holder would solve this but the $49 ball head, though pricey, gives added security with a weight penalty of only a couple of ounces.
Sturdy, easy to setup, versatile
This is a reasonably light weight tripod that, when setup, is very solid. The setup is easy and intuitive to adjust the legs and then mount whatever you wish with rotate and pan adjustments.Most recently I've used it as a mount for an iPad holder to do video calls indoor and outdoor. As such, this tripod have functioned flawlessly. It is easy to adjust the height and angle of the iPad for the video calls.Excellent product, very very useful right now during the 2020 global pandemic.I hope this helps you.
Light weight tripod
Works well for a camera tripod and has been very rugged for use while hiking and getting nature photos. Very light compared to my older aluminum tripod.
A significant upgrade
I used an amazon basics tripod for years. Years and years, event after event, state after state and while it was in fact basic, it was sufficient. So after it came apart (again, this is a trunk living, flight after flight, hotel after hotel type of life for that tripod.) I'd decided especially since it was for my wedding, and I would be using it as a steady tripod set up in the corner, that it was time to upgrade. Now, I've been on a dozen or so professional shoots, so I've seen $500 tripods that were lighter, and could hold a 50lb setup and so on. But none that made me think, that is worth that amount because it's worth that much more than a basic tripod. This tripod is worth it. It's just north of $100 given the time you buy it. It's light and takes up a tiny amount of space and sets up in seconds. Thus far, the one time I've used it, it's been amazing and I'm looking forward to the traveling and shoots I'll use it for.If you need bullet points on why to get this over another.1. Weight.2. How compact it gets.3. Use, I don't need to do any panning and tilting shots, but, I can.4. Set up is simple, fast.Con would be,If you needed a taller one, this isn't it. When you buy a tripod don't get all the things you think you'll use. Get what you will use. Will you use a monopod? No. Will you need to get circular swivel shots, probably not. But, will you set this in the back of a crowd and anyone taller than 5'8" will block your shot. If so, this isn't for you, get something that's 71" or more if possible. But if you won't be shooting over a crowd, here ya go. This is the one.
These images belong to K&F Concept end users.