TM2534 Tripé de Câmera DSLR 65inch para Canon, Nikon Fotografia Viagem
R$357
R$269
&Frete GRÁTIS nos países elegíveis
Marca:

K&F Concept

Compre K&F Concept tm2534 tripé de câmera dslr 65inch para canon, nikon fotografia viagem online, frete grátis e garantia de devolução de 30 dias.

Em stock:

Existente

269

https://br.kentfaith.com/KF09.041_tm2534-tripé-de-câmera-dslr-65inch-para-canon-nikon-fotografia-viagem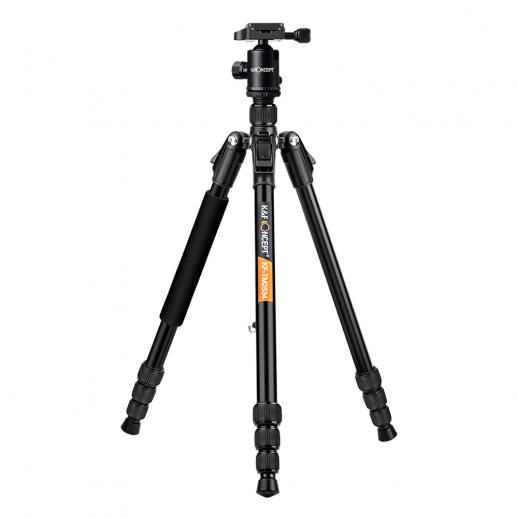 TM2534 Tripé de Câmera DSLR 65inch para Canon, Nikon Fotografia Viagem
Compre mais de 2 itens e receba
10% de desconto
!
Jellemzők
• 25 milímetros de diâmetro grande tubo de liga de alumínio de magnésio, a capacidade de carga pode atingir 22,04 libras (10 kg), fornecer suporte de segurança e estabilidade para sua câmera.
• Perna de 4 secções pode ser dobrada para 18,70 ''; o peso do N. com a cabeça da bola é 3.73 libras, que é super portátil com o saco de transporte do tripé.
• pode ser transformado em um monopé ou bengala sozinho para tornar sua fotografia mais diversificada.
• Coluna central de instalação invertida, para realizar o menor tiroteio de inclinação, fotografia macro e fotografia especial.Bola de cabeça pode ser girada 360 graus, ajudando a expandir o intervalo de atividade da câmera quando tiro panorâmico.
• Para a câmera com lente zoom telefoto, você precisa comprar um anel de montagem de tripé adicionalmente ou suporte de lente telefoto para melhor equilíbrio.
KF-TM2534
DSLR Camera Tripod
Product Parameter
Sections 4

Minimum height
16.7″ (42.5cm)
Maximum height
63.8″ (162cm)
Folded
18.7″ (47.5cm)
221lbs (10kg)
Load Capacity
360°
Rotation
Clear Scale
Low Angle Photography
Lowest angle shooting, macro shooting, and special photography can be achieved through inverted central axis.
Aluminum and
magnesium alloys
Dense sponge grip
Spiral type locking knob makes operation easier and quicker
18.7" (48cm)
Easy to carry
Tube made of high quality magnesium aluminum alloy, can be 180°reflexed, better portability.
Informações do Unipod
Altura: 165cm


Informações do modelo
Altura: 185cm

TM2534 Tripé de Câmera DSLR 65inch para Canon, Nikon Fotografia Viagem
Great travel tripod.
Great travel tripod. Bought this to replace my slightly smaller and more light weight tripod. It's a great in between a flimsy travel tripods and heavy duty ones that you would travel with. I do mostly scenic hdr photography and this tripod holds my 5D mkII in place sturdy enough. You can also add a sandbag to it to give it more stability. Folds up to be even more compact. Very adjustable, ball mount is fluid yet sturdy.
TM2534 Tripé de Câmera DSLR 65inch para Canon, Nikon Fotografia Viagem
Hola buenas noches, tengo el tripode tm2534 y se me han roto los plásticos que vienes en el interior de las patas.
Y quería saber si venden los plásticos para recambios de los plásticos ya que el tripode es nuevo.
Las patas al salir y entrar van muy duras por que los plásticos están fotos.
Es espera de respuesta.
Muchas gracias.
TM2534 Tripé de Câmera DSLR 65inch para Canon, Nikon Fotografia Viagem
One of the best aluminium tripod/monopod....
By far the best aluminum tripod I ever used below $100. This is the first time I purchase K&F product and I am extremely happy with my decision after few weeks of test.This solid tripod has very high quality finish and provide stable support to the camera. It has no problem holding my Canon 1Ds MKIII plus flash. The camera sits nice and firm. The legs have three steps to adjust the angles and 3 steps for extension. Locking nuts can easily lock and open the leg with just few turn by one hand. It provide strong locking to make the support stable. The ball was okay (good for regular use), but you can replace it with more professional ball head like I did.Compare this tripod with another GITZO carbon fiber tripod I have, quality wise, I have to say this one is very close. In turns of functionality, they are probably the same. As for weight, aluminum is still few oz heavier, but still in comfort range.The most attracting function of the tripod is that you can turn it into a monopod. You can turn one of the leg (shown in the picture) loose and make it into a monopod. That's the main reason I choose this tripod in the first place. I was looking for monopod but found this one and decided to give it a try. I never regrade fro that decision. Now I have a monopod and a backup tripod with comparable quality.
TM2534 Tripé de Câmera DSLR 65inch para Canon, Nikon Fotografia Viagem
Great Tripod and Great customer service
I have two Gitzo tripods and a Manfroto but needed one another tripod between the small Gitzo and the large Gitzo. So I thought I would try this one since for the price why not. Pleasantly surprised. For such a low price the tripod was of high quality. Had an issue with the ballhead pan rotation being a bit tight. Customer service was so easy to work with, I am very satisfied. Recommended.
TM2534 Tripé de Câmera DSLR 65inch para Canon, Nikon Fotografia Viagem
Love this tripod!
I recently got into photography, and this tripod is amazing. It comes with a nice durable storage bag. It is well made and easy to use. Definitely looking forward to shooting more photos and putting this thing to good use.