Mochila de Câmera DSLR Viagem Fotografia 10.63*6.69*16.53inches
R$402
R$337
&Frete GRÁTIS nos países elegíveis
Marca:

K&F Concept

Compre K&F Concept mochila de câmera dslr viagem fotografia 10.63*6.69*16.53inches online, frete grátis e garantia de devolução de 30 dias.

Em stock:

Existente

337

https://br.kentfaith.com/KF13.087_mochila-de-câmera-dslr-viagem-fotografia-10.63-6.69-16.53inches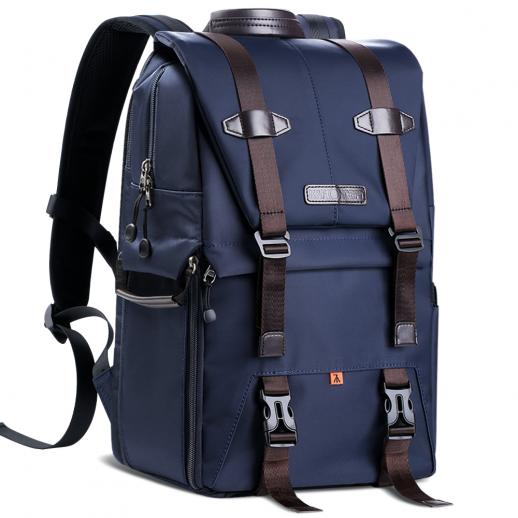 Mochila de Câmera DSLR Viagem Fotografia 10.63*6.69*16.53inches
Compre mais de 2 itens e receba
10% de desconto
!
Jellemzők
• Grande capacidade: Amplo compartimento acolchoado para laptops / notebooks (pode caber até um 14 "Laptops). Compartimento frontal e bolsos laterais para tablets, arquivos, bateria, cabo, tampa de lente, garrafa de água e muito mais.
• Convinient: Compartimentos laterais para acesso fácil e rápido à câmera e acessórios, uma solução de suspensão para tripé.
• Dois compartimentos: Compartimento principal suporta facilmente colocar e corrigir seus acessórios portáteis e protege seus equipamentos de solavancos e choque, compartimento superior para itens pessoais. Seja convertido em Mochila Escolar ao tirar a inserção da câmera.
• Materiais: Exterior durável e resistente às intempéries, construído com Nylon, tecnologia especial para carregar novamente.
• Confortável: As tiras respiráveis ​​e as juntas de ajuste múltiplo suportam o conforto e a carga de iluminação em longas jornadas.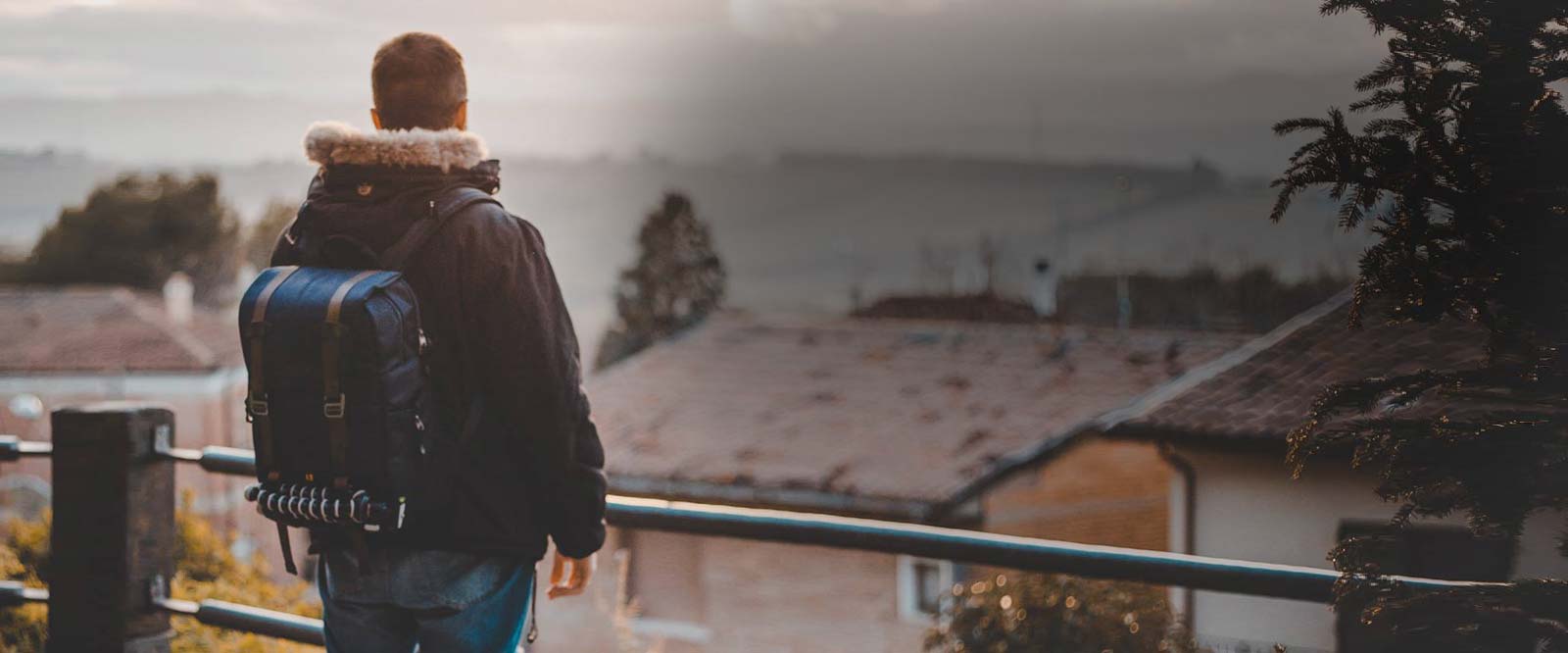 DSLR CAMERA BACKPACK MULTIFUNCTIONAL WATERPROOF NYLON BAG WITH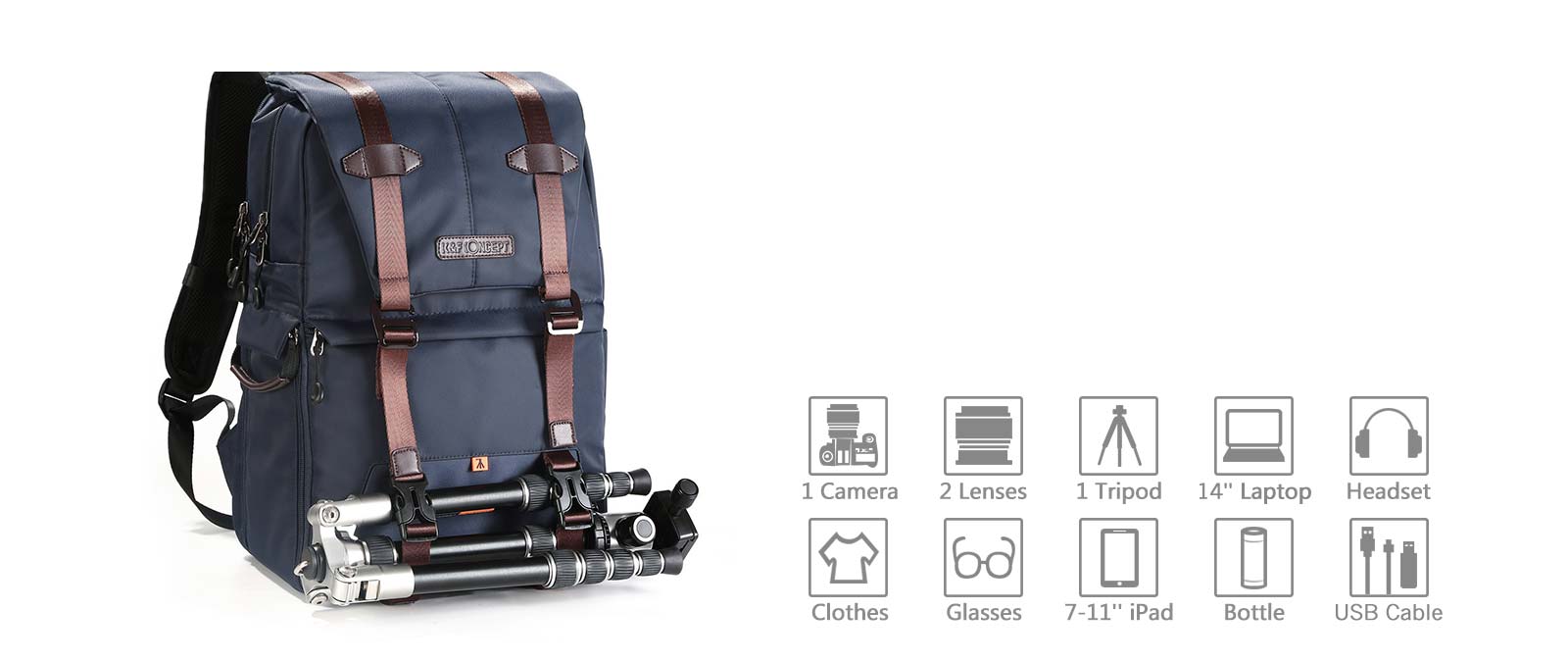 CAPACITY UPGRADE
Hold 1 camera + 2 lenses+ 14'' Laptop+1 Tripod+ other photo essentials.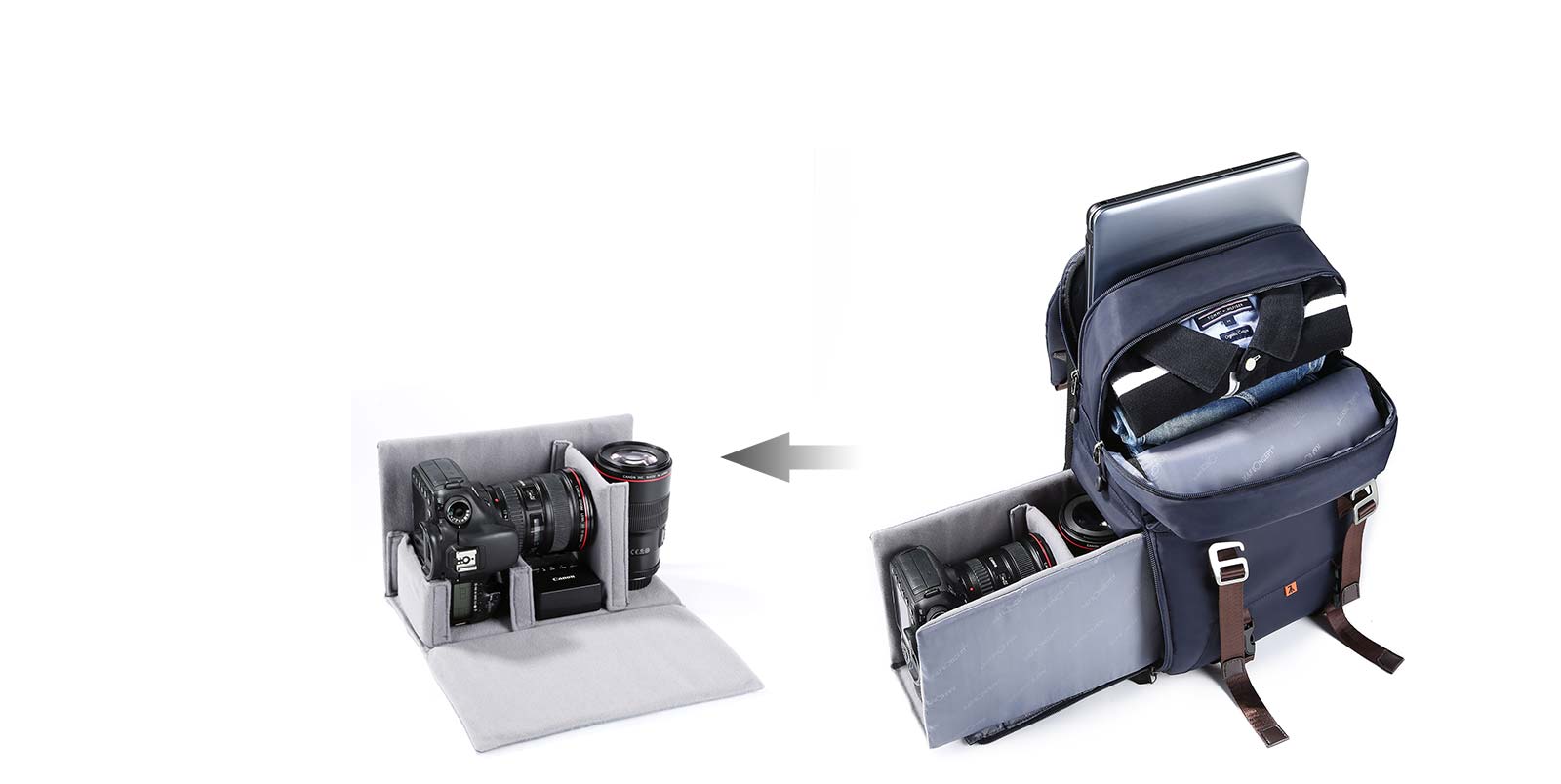 DIVIDED COMPARTMENT
Thickened and adjustable dividers can be more effective to protect your photographic equipment.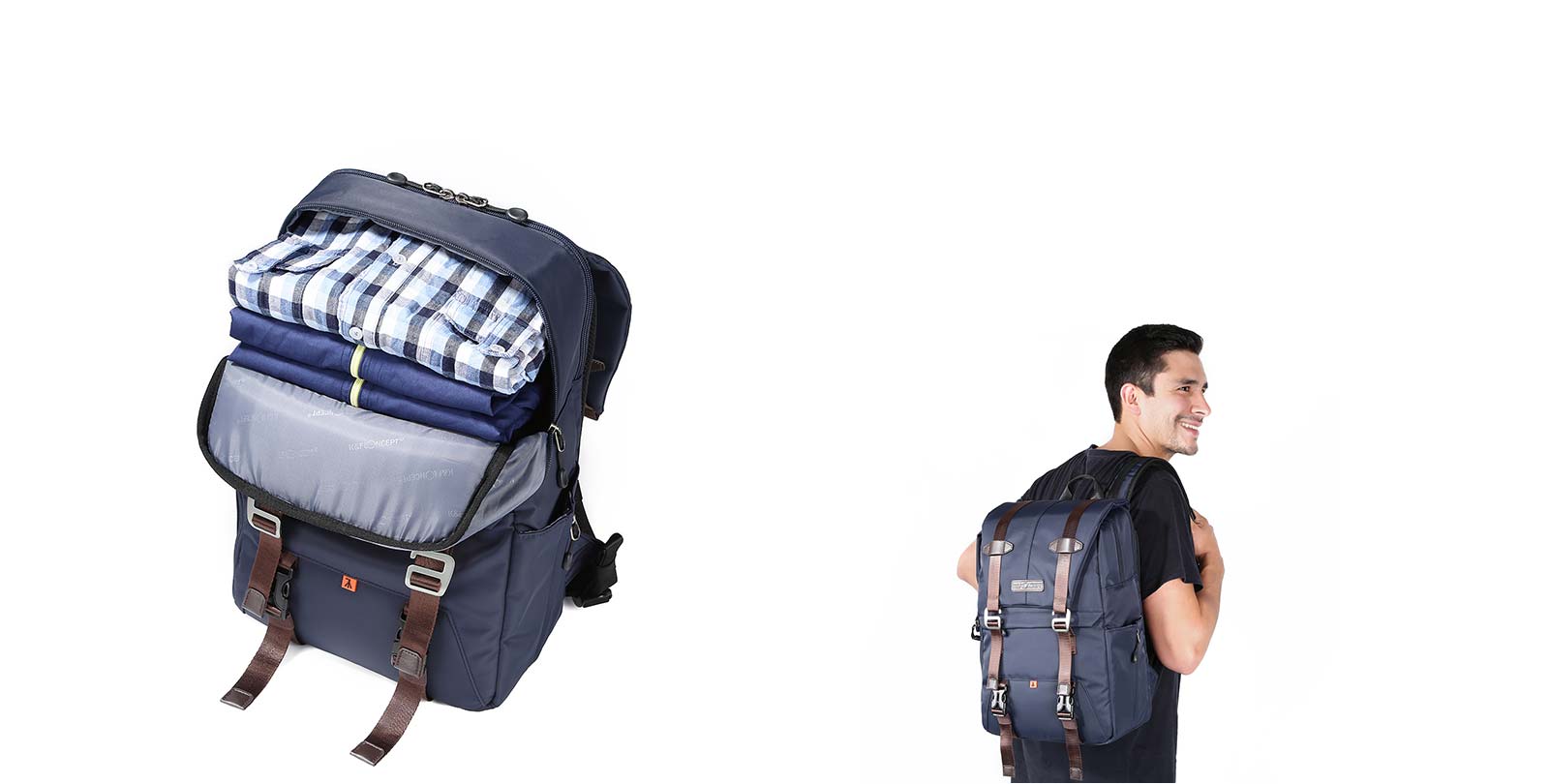 PRACTICAL CAPACITY
Adequate Personal Items Compartment Dedicated clothes compartment and laptop compartment ( up to 14").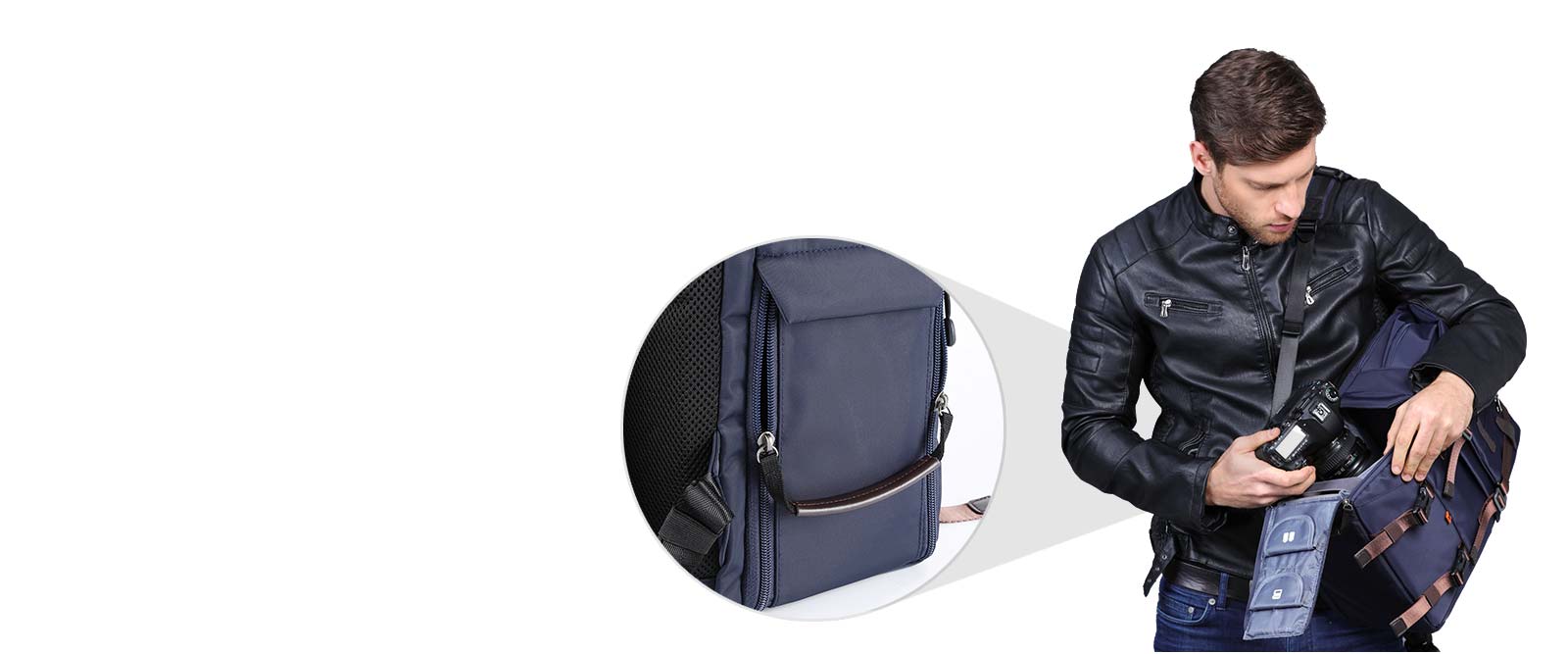 SIDE OPENTING
Rightside access lets you get your gear without putting the bag down.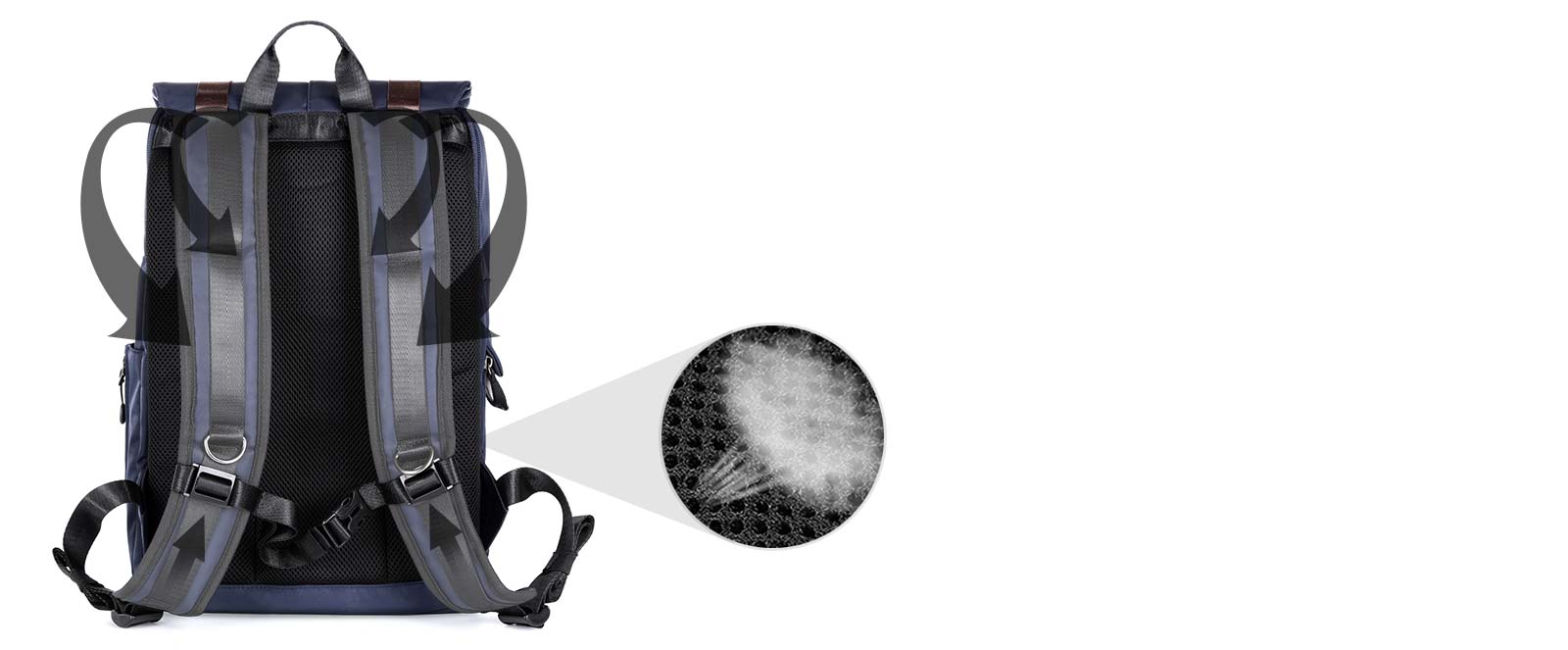 EASY TRAVEL
Breathable air-mesh widened and thickened shoulder strap and back; Adjustable chest belt keeps the straps tight on you shoulders.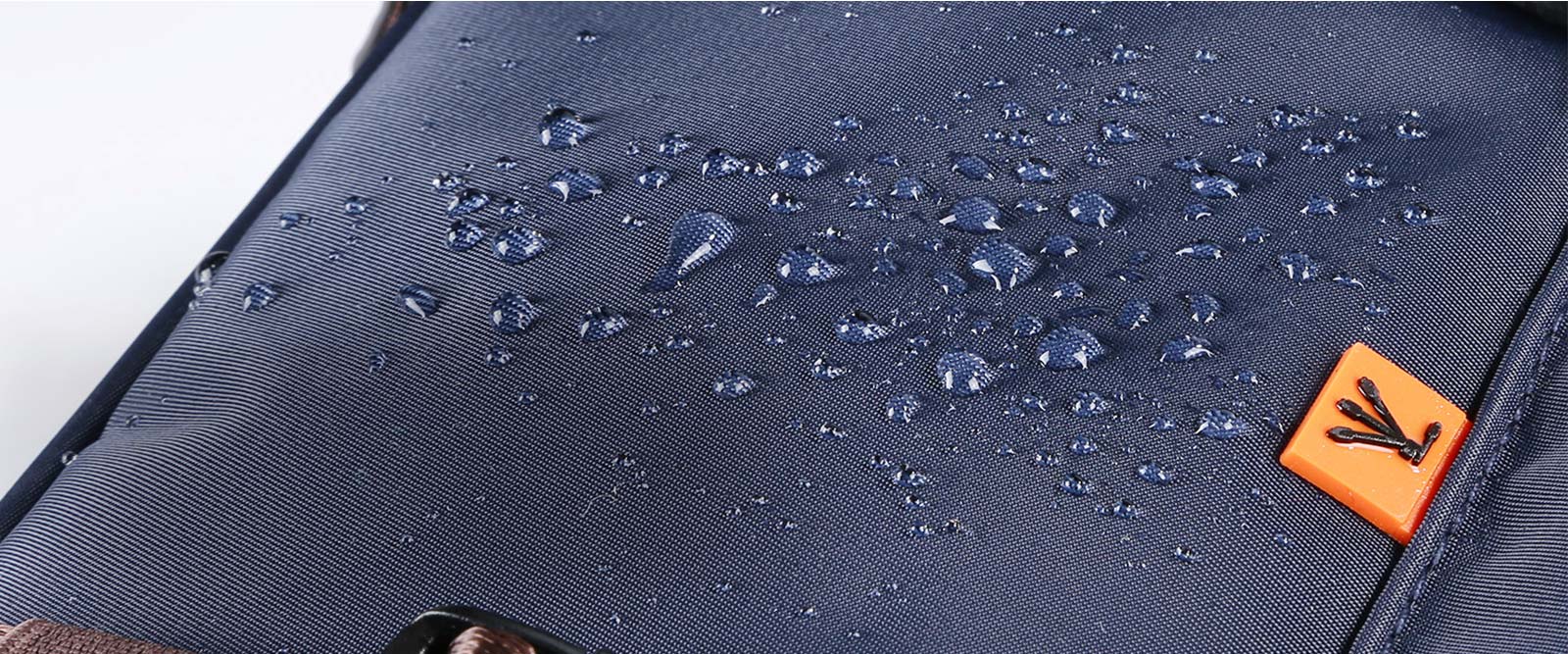 WATERPROOF NYLON
Made of Waterproof Nylon ,scratchresistant, tear resistant.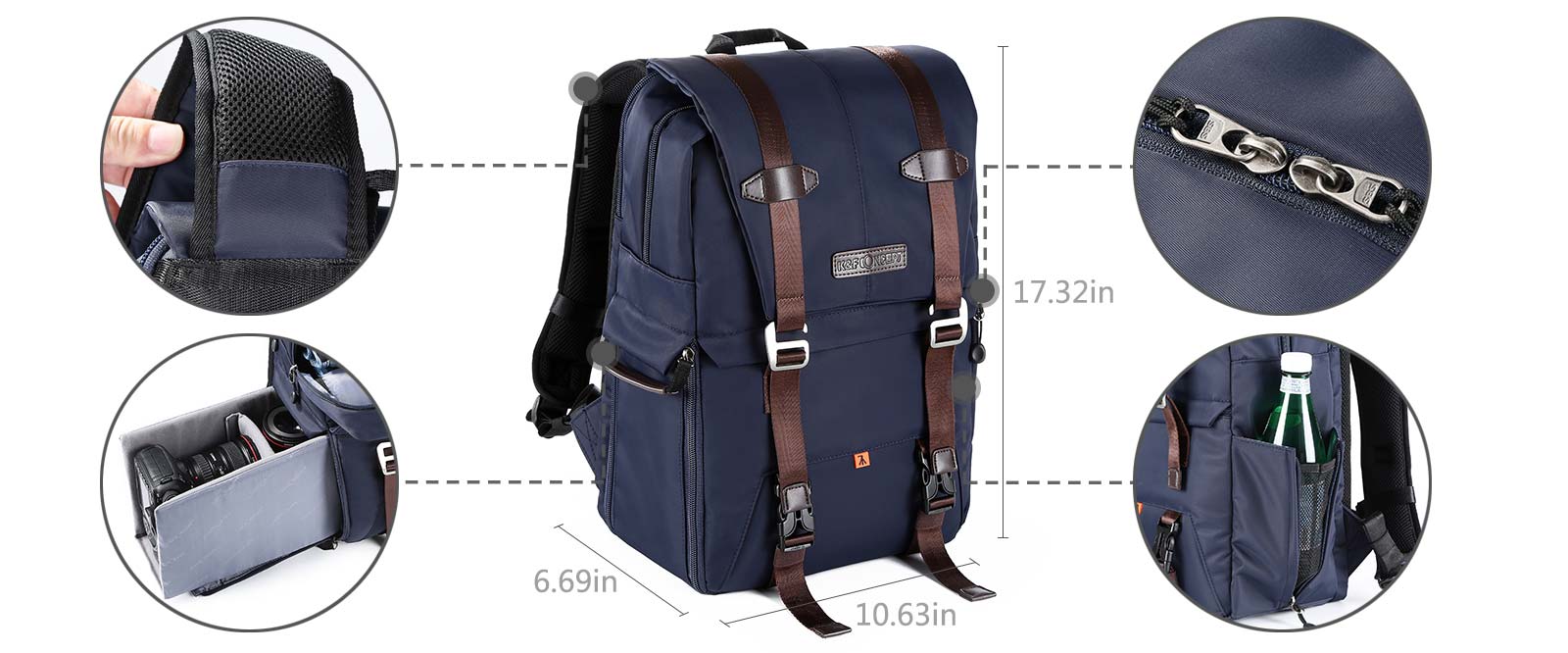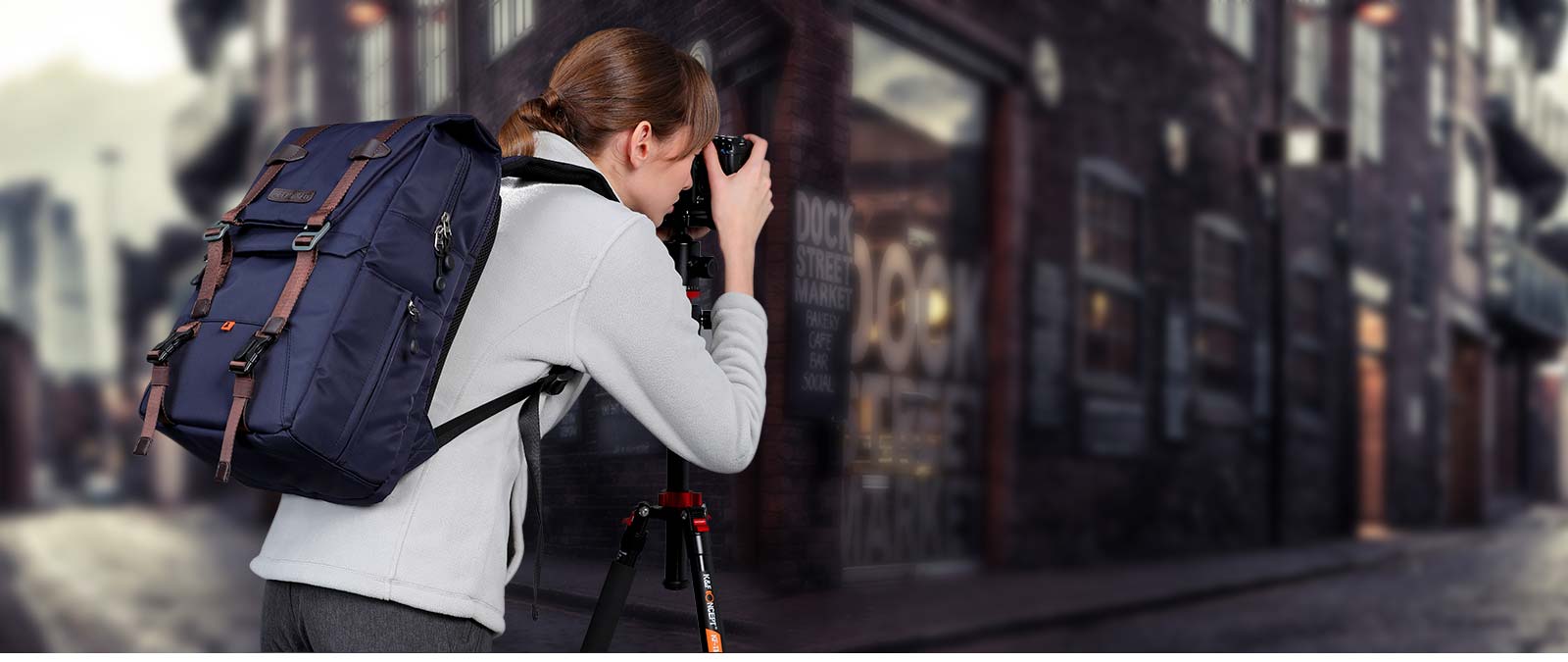 STYLISH PHOTOGRAPHY BACKPACK
Saco de nylon impermeável Multifunctional da trouxa da câmera de DSLR com.
Mochila de Câmera DSLR Viagem Fotografia 10.63*6.69*16.53inches
Great travel bag!
I bought this for my boyfriend, and he loved it! I really liked the color and down-side zipper for the camera is amazing, you can use it to store other things as well.
Mochila de Câmera DSLR Viagem Fotografia 10.63*6.69*16.53inches
Great product
My son loves this when traveling to carry his camera & other electronics.
Mochila de Câmera DSLR Viagem Fotografia 10.63*6.69*16.53inches
Been using this backpack for a lot of my shoots!
It packs a lot of things and is still light. There are many compartments to place your camera, lenses, laptop, and accessories. Zipper end is elastic so it stretches when you pull on the zipper making the zipper less likely to tear off from wear. Buttons are Magnet, not velcro so it lasts. Will definitely keep using this backpack for me shoots.
Mochila de Câmera DSLR Viagem Fotografia 10.63*6.69*16.53inches
A great multi-use day pack!
I bought this to use on a trip to Alaska, and it worked out great. I wanted something I could use traveling through the airport with my camera gear, and on day trips once I reached Alaska. I was able to carry a Minolta D3300 with a 18-300 lens attached, a 15-55mmm lense, battery charger, and extra battery in the bottom section, and my meds, hand lotion, lip gloss, snacks, a book, and a light weight rolled up jacket in the top section. There is a pocket in the back section that fit my kindle, and had room for more if needed. The front pocket fit my passport and plane tickets. It does fit in the overhead bin on a plane or tour bus. My only complaint is that the hooks on the front straps that close the top to the bottom don't hold well, but I will figure out something to replace/modify them with - not enough to keep me from buying it again. Once everything was in it, it was pretty heavy (more from the gear than the pack), but it sits good on your back and is comfortable to carry. On top of all this, it is a very nice looking pack.
Mochila de Câmera DSLR Viagem Fotografia 10.63*6.69*16.53inches
Used it for 3 weeks now..Works remarkably well and it is very sturdy.
I have to say that I'm very impressed by the backpack, I posted a video above showing what it capable of carrying. Even though my setup looks insane with all the gimbals sticking out, it is what I actually carry around to shoots. Definitely not the setup for traveling but it is a great setup for those who wants to carry less bags and have a secure/robust setup. For traveling I would definitely take my Zhiyun Crane away and use my Feiyu G6 Plus instead since that gimbal is much more compact. The material is very high quality, they use Nylon fibers which is one of the strongest fibers in the fabric scene, the buckles is able to hold my travel tripod with ease but even better was that it was able to hold my gimbal. I really love the compartments that it has and the magnet was a nice touch to the camera side. The backpack came with some accessories which contains cleaning supplies for your lenses and cameras; I just so happen to put my 7 Sony NP-FW50 batteries in that pocket along with 2 18650 batteries.Overall I am impress that it was able to hold, 2 gimbals, 3 lenses, 2 cameras, tripod, flash, 4 NPF Batteries, and many other accessories with ease. My back does not hurt when I use this backpack to travel around campus and I feel confident that it will hold all my camera equipment without fail.
These images belong to K&F Concept end users.