Mochila de Câmera DSLR para Fotografia Viagens Exterior 18.9*11.4*6.7inches
&Frete GRÁTIS nos países elegíveis
Marca:

K&F Concept

Compre K&F Concept mochila de câmera dslr para fotografia viagens exterior 18.9*11.4*6.7inches online, frete grátis e garantia de devolução de 30 dias.

KF13.080

Modelo:

KF13.080

599

https://br.kentfaith.com/KF13.080_mochila-de-câmera-dslr-para-fotografia-viagens-exterior-18.9-11.4-6.7inches
Características
• Dimensão Exterior: 11,42 &* 6,69& * 18,90 &; Possui 1 câmera DSLR, 1 lente e outros itens essenciais da fotografia.
• Melhoramento do espaço: Bolsos dedicados para transportar portáteis até 14 &; o compartimento superior pode conter roupas.
• Material durável: Material de nylon à prova de respingos e resistente a rasgos, resistente e durável.
• Design Conveniente: Acesso rápido ao lado do corpo, e a mochila também pode ser um saco casual ao tirar a inserção da câmera.
• Proteção mais forte: paredes externas espessas e divisórias internas removíveis podem estabilizar seu equipamento e protegê-lo contra choques e golpes.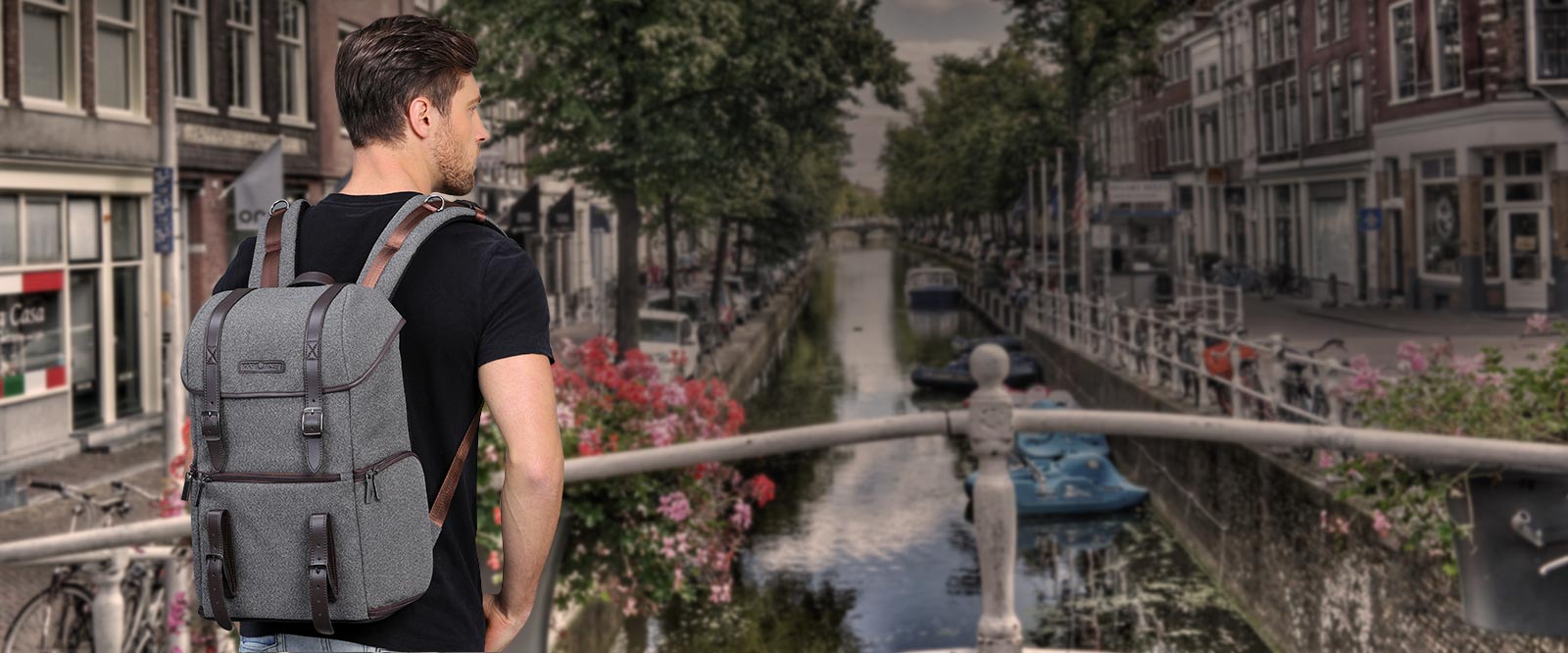 DSLR CAMERA BACKPACK MULTIFUNCTIONAL WATERPROOF NYLON BAG WITH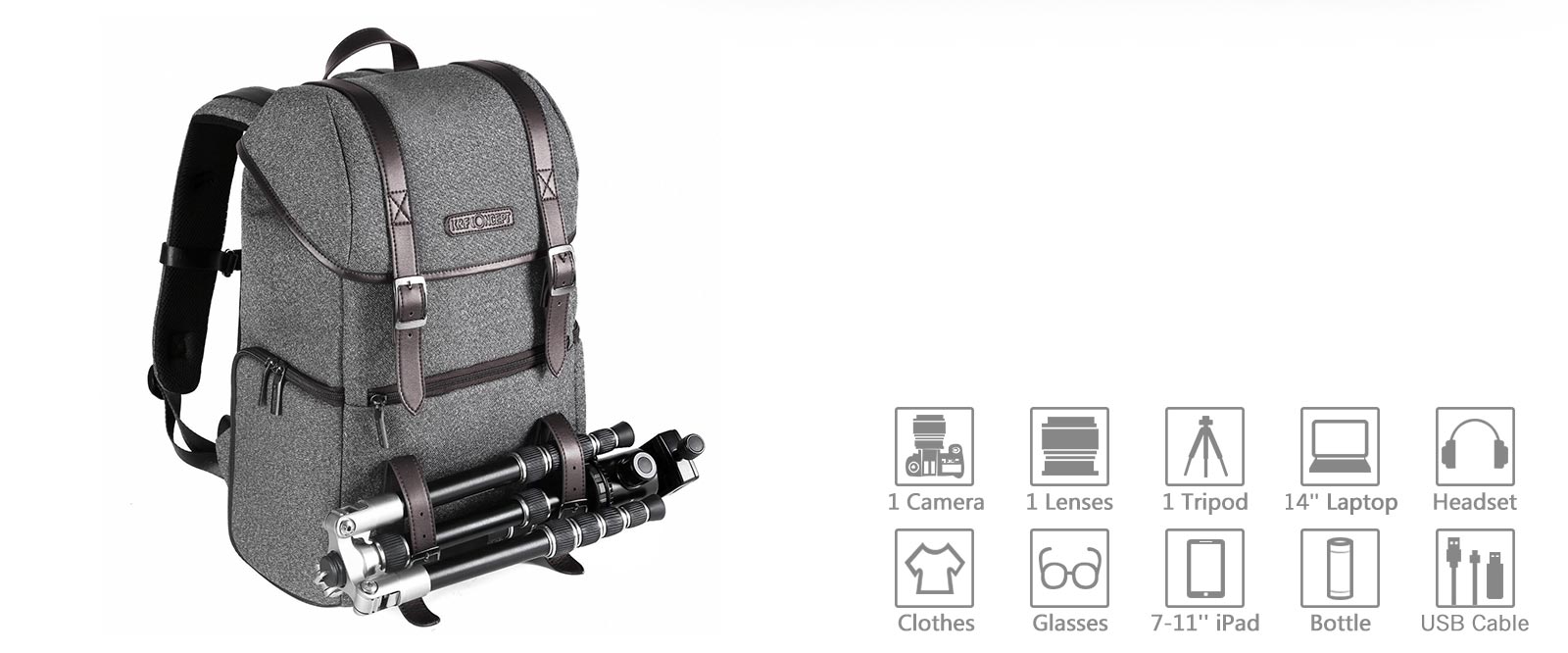 CAPACITY UPGRADE
Hold 1 camera + 1 lenses+ 14'' Laptop+1 Tripod+ other photo essentials.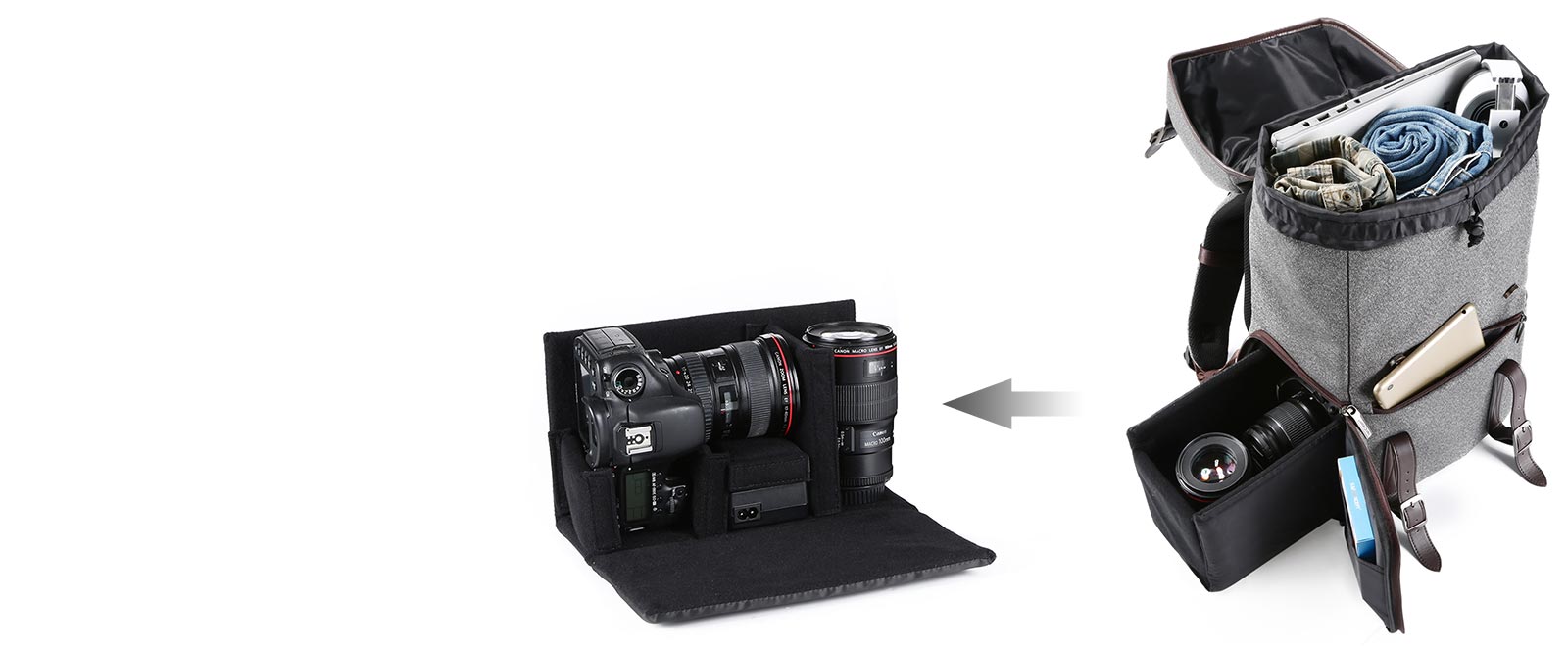 DIVIDED COMPARTMENT
Thickened and adjustable dividers can be more effective to protect your photographic equipment.

PRACTICAL CAPACITY
Adequate Personal Items Compartment Dedicated clothes compartment and laptop compartment ( up to 14").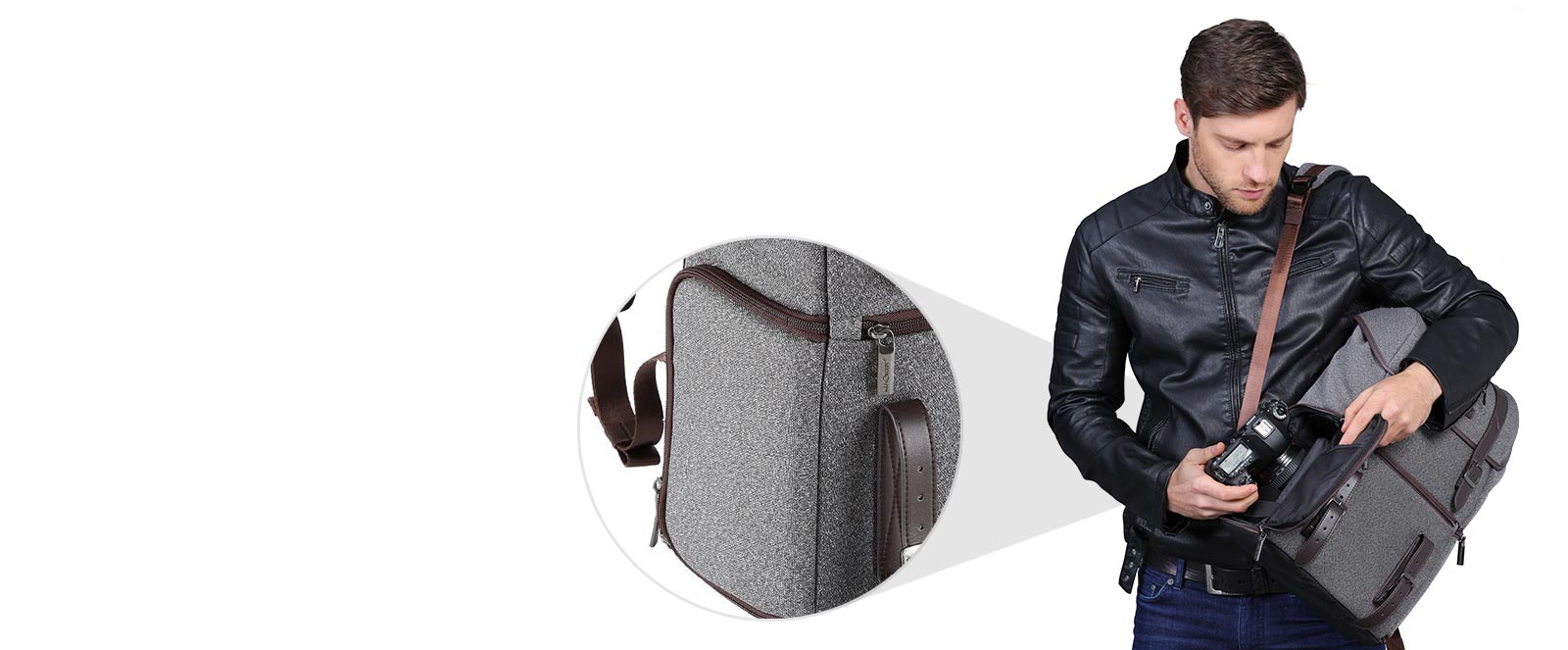 SIDE OPENTING
Rightside access lets you get your gear without putting the bag down.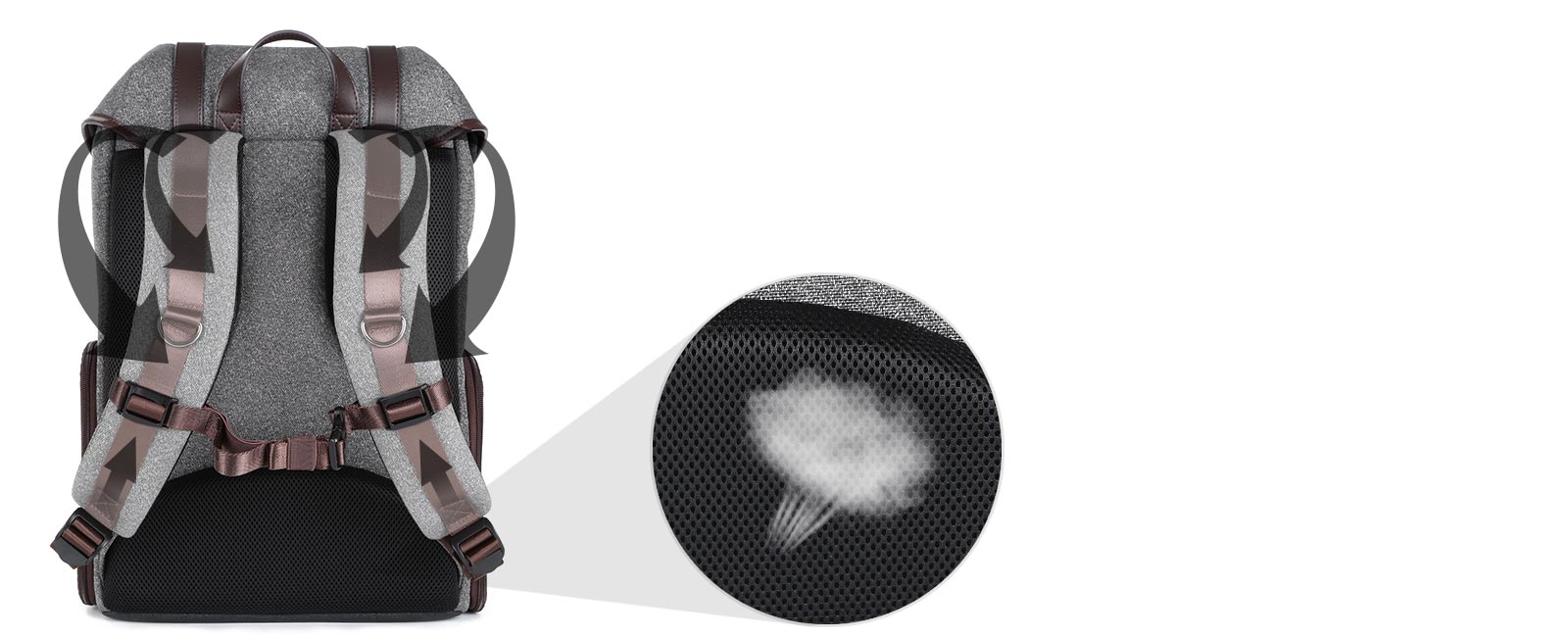 EASY TRAVEL
Breathable air-mesh widened and thickened shoulder strap and back; Adjustable chest belt keeps the straps tight on you shoulders.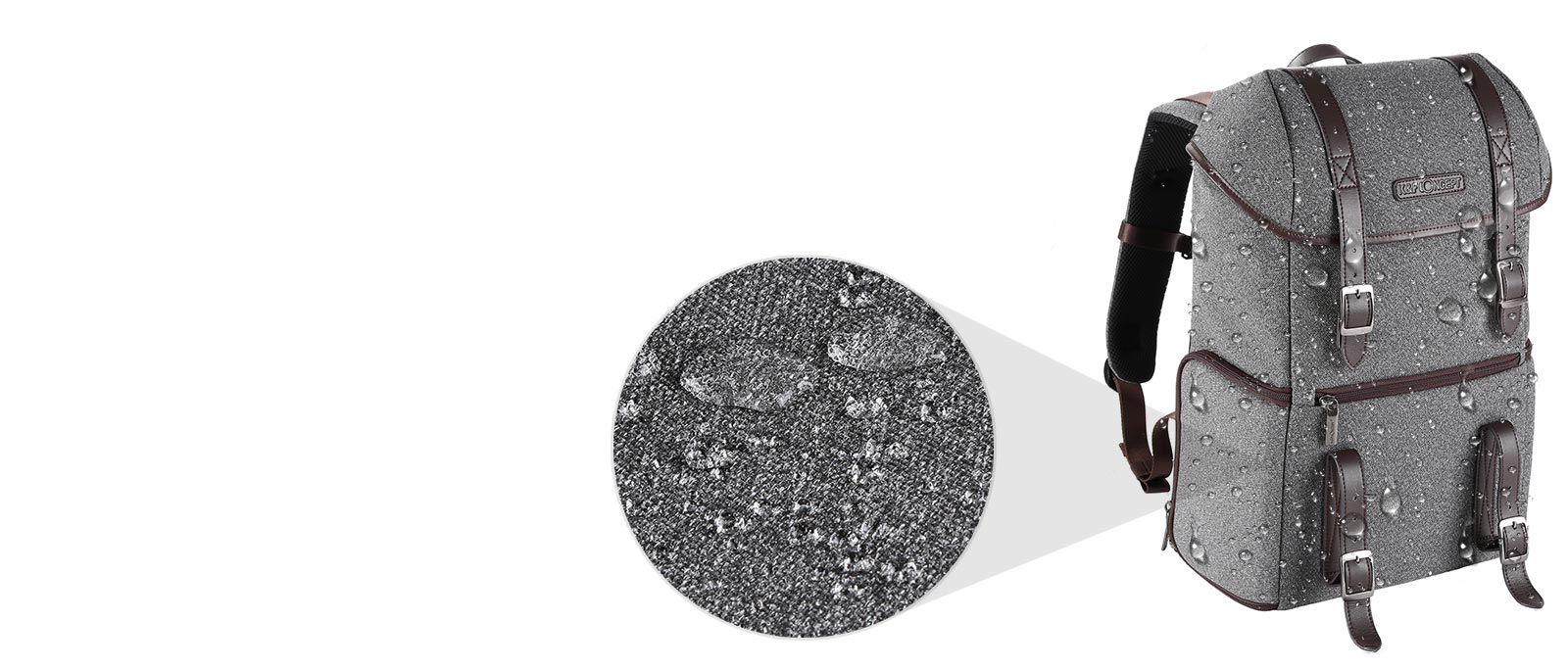 WATERPROOF NYLON
Made of Waterproof Nylon ,scratchresistant, tear resistant.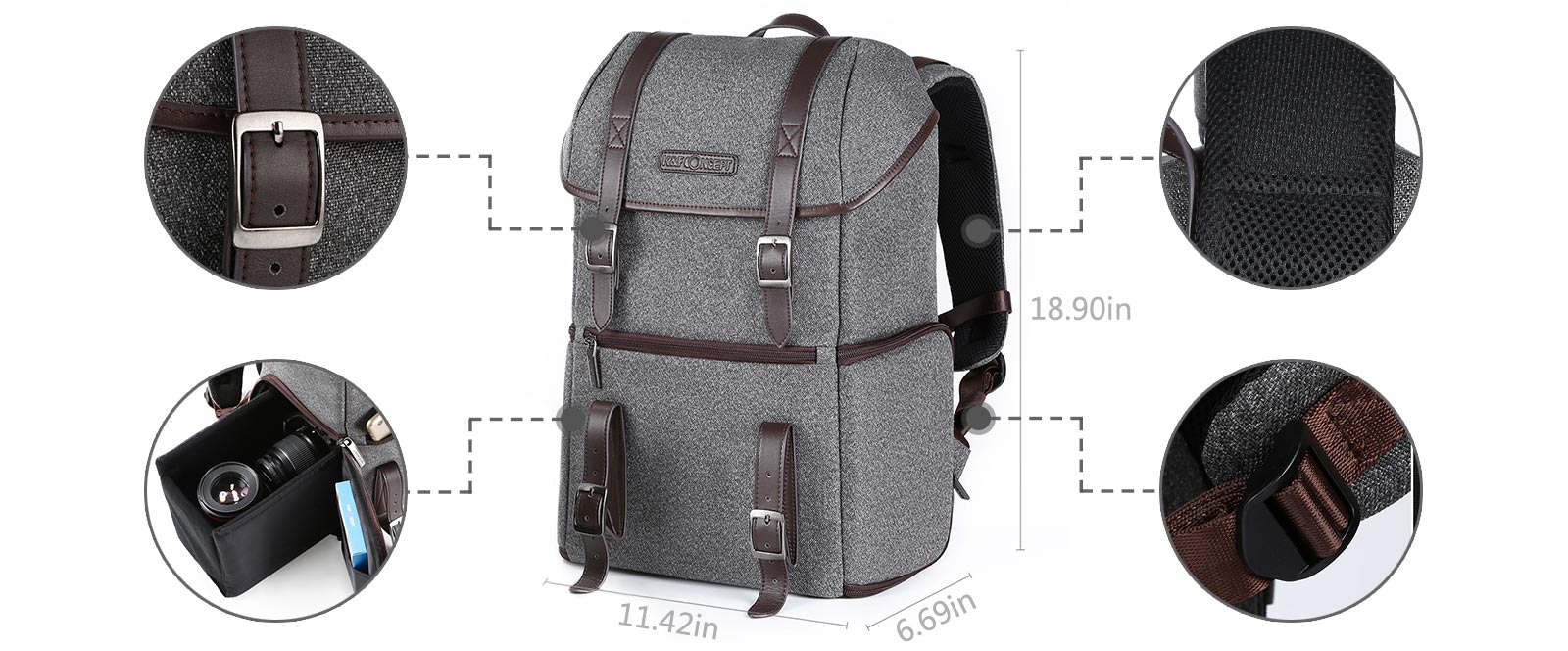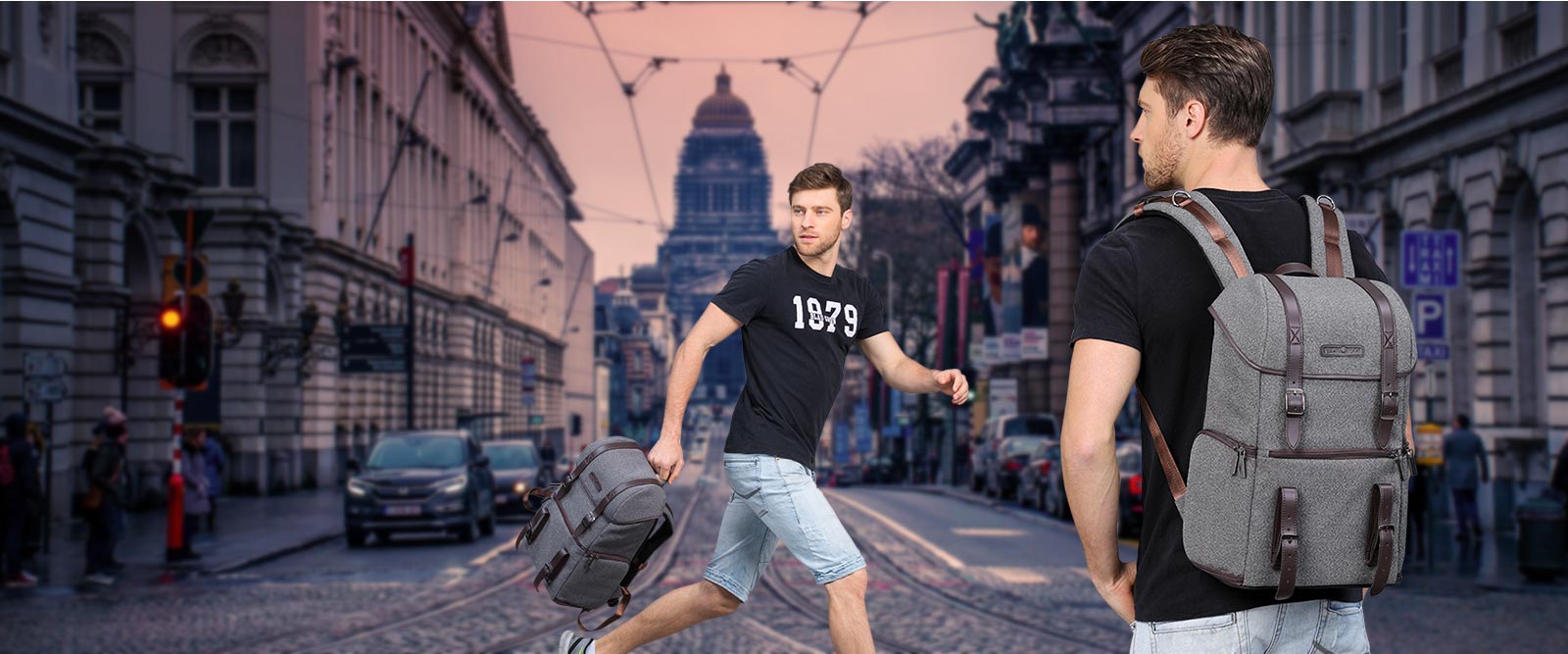 STYLISH PHOTOGRAPHY BACKPACK
DSLR Camera Backpack Multifunctional Waterproof Nylon Bag with.
A bag to hold all camera accesories
I needed a bag to hold all my camera accessories on the road and this bag is perfect. It has pockets for everything. The best thing is that it has easy access compartment for the camera. The bag is well made and looks good. I recommend this to anyone who needs a bag to store camera and accessories.
2017/10/06 00:00:00
This K&F Concept backpack is a very stylish and modern backpack for photographers.
This K&F Concept backpack is a very stylish and modern backpack for photographers, it is very well made and feels high quality, it is also waterproof and breathable at the same time.There are many compartments in this backpack to keep all your gear safe, you have a large compartment at the top just as a normal backpack would have and this is secured with a draw cord as well as a top cover which is fastened with magnetic buckles. You can fit a wide variety of items in this compartment such as a 14" laptop, headphones, tablet and more.Now onto the main compartment for your camera, this is located on the bottom of the backpack on the side, this has a insert which your camera and lens can safely fit into. You can get a DSLR with a medium sized lens and one more lens into this compartment so don't expect to bring every lens you have.There are more cool little compartments too for SD cards and whatever else you would want to bring along with you. And something very cool is that you can actually remove the camera insert in the bottom and use this as a normal backpack.Overall I think this is an awesome, versatile and functional backpack that is comfortable and easy to adjust to your personal preference and needs and while you don't have loads of slots for your camera gear I think this will appeal more to people who want to travel light and bring just one bag with your camera and favourite lens with room for a spare set of clothes a snack and your laptop!
2017/10/18 00:00:00
First impression: Very good value for money.
I received this bag at no cost to me in return for my honest review. I am now writing my initial reactions upon receiving the bag, but before testing it in the real world. I will update this review and make a video once I have had more time with the bag.----FIRST IMPRESSIONS:The quality of construction and materials is very good, overall. High quality SBS zippers (similar in quality to YKK), tough grey nylon exterior, and very high quality "seatbelt" type nylon webbing used in the should straps and sternum strap. The bottom is some textured plasticized material that seems very rugged and waterproof. The remaining nylon fabric is purported to be water resistant, but I have yet to test. Back buckles and zipper pulls are of some non-magnetic metal with a chrome-like plating. D rings on the should strap seem to be of stainless steel. Other buckles are of good-quality nylon plastic. The "leather" straps on the back of the bag are actually "pleather." Probably of polyurethane. They are the one material that I think will eventually wear out quickly.Stitching appears generally very good, although it does not appear that they used techniques like bar-tacking for extra durability at handles and should strap attachment points. Interior material is black, slick nylon. A bit hard to see your gear inside. The pull out camera cube is pretty well padded, and comes with a number of velcro dividers. I'm still trying to best configure these dividers, but I can fit a Micro Four Thirds body with lens attached, and easily two other lenses. You can only access this from the left hatch, as the right hatch just opens to a series of pockets. The top compartment is accessed by lifting the top panel (that actually closes by magnets, even though it looks like buckles), and then by uncinching a drawstring. It's quite roomy up there. Enough space for several more lenses, a mini tripod, filter pouches, your lunch, and perhaps a light jacket and hat. Or, alternatively, you could probably fit a couple of small packing cubes with enough clothes for a couple of days of mimimalist travel with your camera and a couple of lenses. The divider between the top and bottom compartment is attached by velcro, and can be removed to access the whole interior of the bag. If so, it appears to be around 20-22L capacity, and could easily fit enough clothes for a week's worth of travel. There is also a well-padded laptop sleeve that fits my 13" laptop with plenty of room to spare.The shoulder straps are very well padded and quite comfortable. Sternum strap and adjustment straps for the shoulder straps have little elastic "keepers" to keep excess straps from flailing about. Nice touch there! Shoulder straps are contoured to go around your neck, and I found them to be quite comfortable, even when I loaded the bag up. A "real life" test will see how long the comfort lasts. The back padding is really thick, with a nice wide air channel in the middle. The pads have a nylon mesh over them to hopefully increase breath-ability. Again, a real-life test is in order. Finally, although there are tripod straps on the back, I doubt I will ever use them. I tried to strap on my Me-Photo Roadtrip (weighing only 4 pounds), and it seriously unbalanced the bag and made it uncomfortable. There is no way a full-sized tripod will attach comfortably. A Joby Gorilla Pod would probably be fine, and is all I would recommend strapping to this thing (perhaps you could strap your jack there, or a small yoga mat or something).My "First Impression" rating is 4/5 stars. It appears to be very good value for money.-----Stay tuned for an update after real-life usage!
2018/01/12 00:00:00
Great bag, not long lasting but still love it
The bag is absolutely perfect, however the botton the front came off already within the first few months of having it.
2019/01/26 00:00:00
Magnetic clasp peels off
We bought this camera bag to use on several trips, thinking that the convenience of being able to take the camera out without having to unpack everything else would be nice to have. It serves that purpose well. The bag itself feels stiff on the back, probably due to the reinforced backing. That itself is not a problem, but something to be aware of. The convenience of being able to remove the camera easily is there and is very handy. The protection for the camera appears solid. The ease of removing the camera is great. The one gripe I have is the magnetic clasp used to hold the compartment closed. It is affixed to the bag with two folded metal strips. When opening the top lid on our first trip, the clasp separated from the fabric. It was nearly impossible to get it to stay after that, and led to us completing our trip with the top lid half closed. Durability is not there for the top lid.
2019/01/16 00:00:00
These images belong to K&F Concept end users.
There are no faqs for this product.