Mochila Grande da Câmera DSLR para Fotografia 11.41*6.69*18.11inches
&Frete GRÁTIS nos países elegíveis
Marca:

K&F Concept

Compre K&F Concept mochila grande da câmera dslr para fotografia 11.41*6.69*18.11inches online, frete grátis e garantia de devolução de 30 dias.

Em stock:

Existente

241

https://br.kentfaith.com/KF13.025_mochila-grande-da-câmera-dslr-para-fotografia-11.41-6.69-18.11inches
Compre mais de 2 itens e receba
10% de desconto
!
Jellemzők
• Esta mochila K & F com grande compartimento principal possui uma DSLR com lente conectada enquanto o sistema de divisórias modulares separará, organizará e protegerá lentes, pisca tripé e outros acessórios para atender às suas necessidades.
• Destaque com sistema de divisores de multi-seção de velcro ajustável que permite muitas configurações. As divisórias destacáveis ​​para combinação livre. Divisores de espuma protetora são totalmente personalizáveis ​​para o seu equipamento.
• Vários bolsos de malha na tampa e no bolso frontal, perfeitos para armazenar acessórios menores. Cintas de ombro / costas duplas são totalmente ajustáveis ​​e são acolchoadas para o conforto do usuário.
• Ventile e design à prova de choque, faça você se sentir confortável. O design de zíper impermeável e o material de nylon impermeável 900D protegem contra respingos e respingos. Saco de proteção extra à prova d'água de graça.
• Tem correias ao redor da cintura e peito e abas que saem em torno de seus quadris. Facilita o transporte por longas distâncias se você amarra bem e funciona bem como uma bolsa de caminhada.
Frequently Bought Together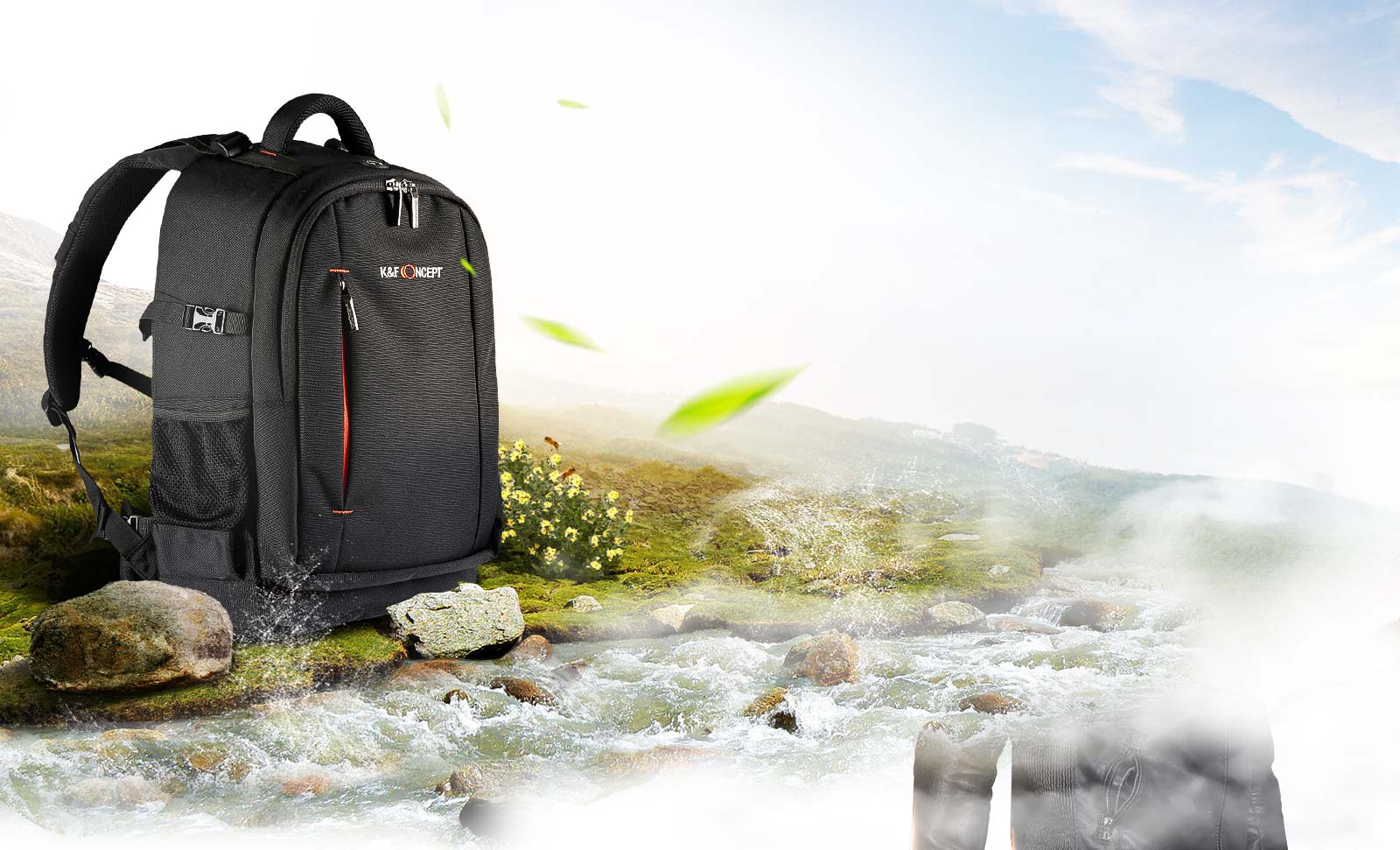 KF13.025
CAMERA BACKPACK
This K&F backpack with large main compartment holds a DSLR with lens attached while the modular dividers system will separate, organise and protect lenses, flashes tripod and other accessories to suit your needs.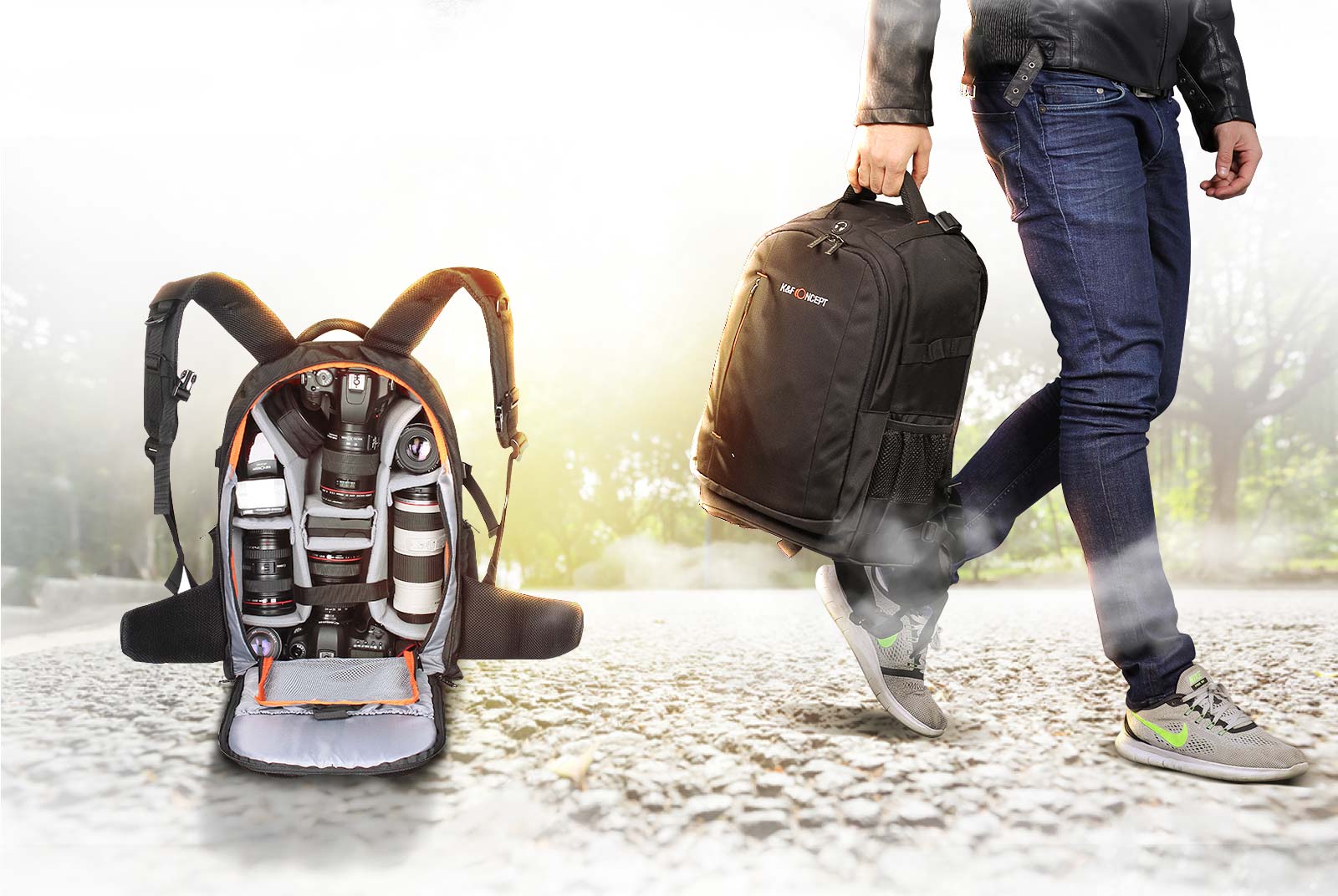 CAPACITY UPGRADE
Holds 2 Cameras + 6Lenses + Laptop + Camera Tripod + Accessories; Dedicated pockets for carrying laptop up to 11 ''.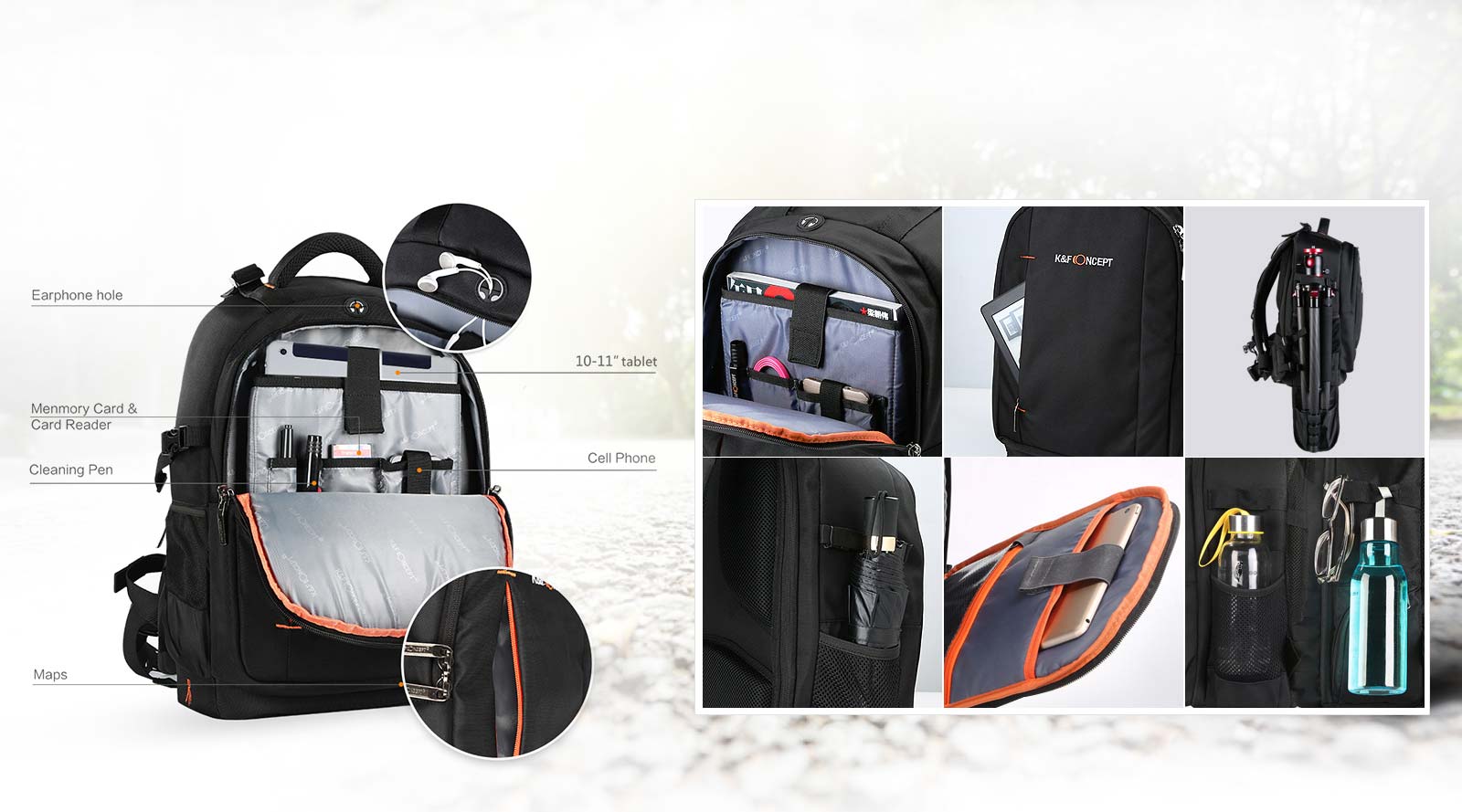 PRACTICAL CAPACITY
Adequate Personal Items compartment and laptop compartment ( up to 11'')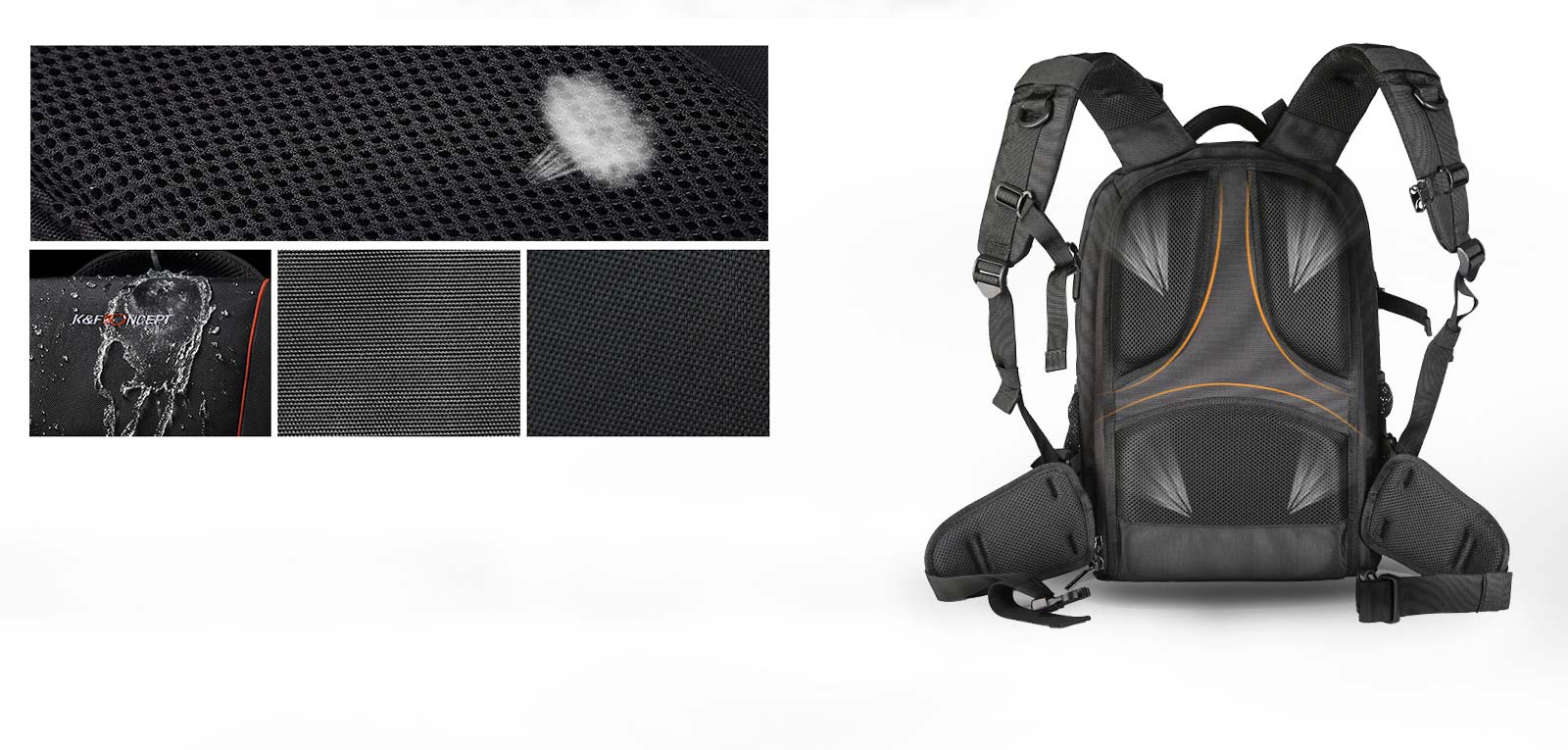 BACKPACK FABRIC
3D padded back for improved breathability and comfort in hot weather. Backpack fabric Breathable, waterproof, abrasion resistant, tear resistant.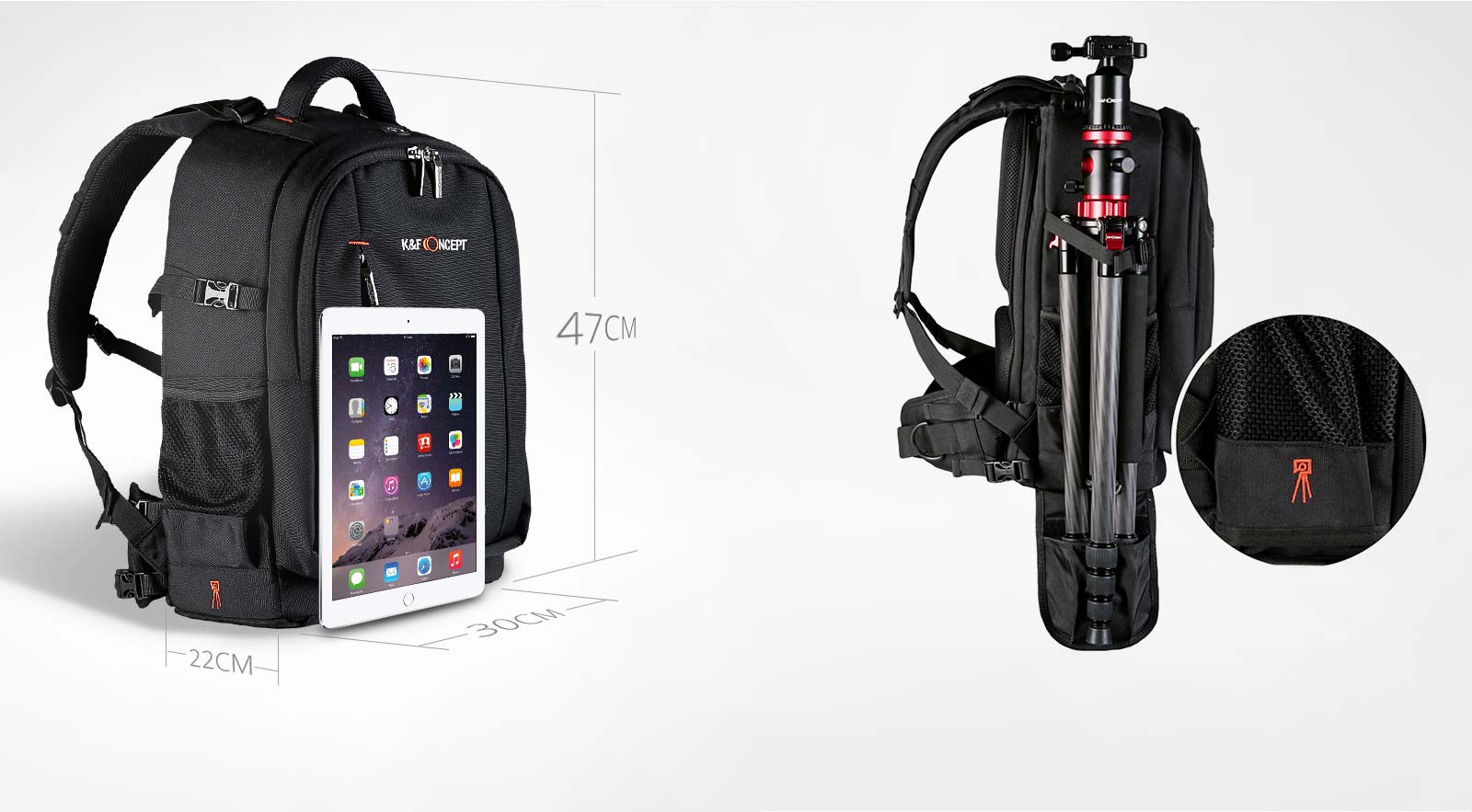 Detachable waist support belt
Controle deslizante de zíper antifurto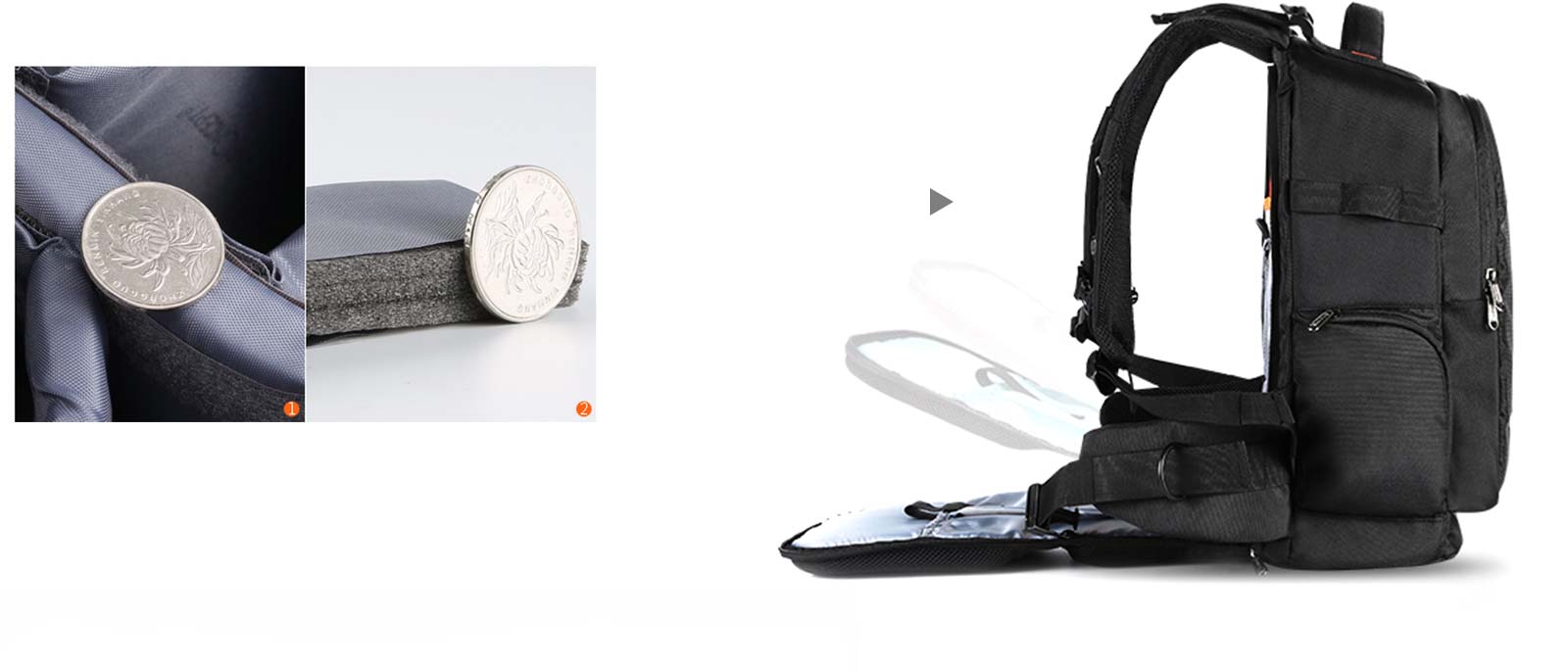 EVA DE ALTA DENSIDADE
A espessura é de 17,0 mm e a superfície interna da camada interna tem 3 camadas de espuma.
Design aberto de volta mais segurança
Mochila Grande da Câmera DSLR para Fotografia 11.41*6.69*18.11inches
Amazing product
Amazing waterproof backpack. I already got the small one and I decided to also buy the big one. It is amazing and for its price the quality is very good. Have a look at the photos attached in this review.Pros:* Great quality and material.* Very cheap price.* Pockets of all shapes and sizes. There is a pocket created ad hoc for tablet. Very useful.* The main pocket that contains all the photographer stuffs is very well protected. You can open it only from the backside.* a waterproof bag is included in the price.Cons:* There is no place to bring a laptop. The rucksack is very big... dimensions can handle a pc.
Mochila Grande da Câmera DSLR para Fotografia 11.41*6.69*18.11inches
Awesome bag for many purposes!
The product was sent to me for an unbiased review.Now where do I start. This is one hella awesome bag! It has many pockets to choose from to stash away your devices. Customisation is a big factor with this bag and so is safety.The quality of this bag is good. It is a tough material. For your safety, this bag unzips from the back meaning you have to take it off first. This is safer because it is harder for all your equipment to get stolen. But on the inside of this is grey dividers. This makes it so you can fit different things in... e.g lenses, cameras, flashes and cases etc....Pockets are endless. The zips are tough and strong and supply plenty of strength when the bag is full. It also comes with a rain cover! (as shown below) which is really handy too! As most bags do, this had a hole for a cable which is really useful for power banks and music devices.The bag isn't too heavy but it's not too light either, it's just a tough rugged bag and feels big on your back, which indeed it is but you know your items are safe! This bag can also do an amazing job at protecting things as it is tough and padded on the inside, so less worrying for you!Overall? I recommend for the price, you can't go wrong!
Mochila Grande da Câmera DSLR para Fotografia 11.41*6.69*18.11inches
Great bag
Really impressed with the quality of this bag
Mochila Grande da Câmera DSLR para Fotografia 11.41*6.69*18.11inches
I have been using this bag for well over a year whilst shooting landscapes and find it perfect for my needs, the ability to change the interior configuration of the main compartment is ideal for me to allow me to fit lenses, camera body and the large number of filters I use as part of my workflow.
With the main compartment access being on the rear of the bag everything is kept secure whilst the bag is on my back yet easy to access once at a location. The additional storage is ideal for spare batteries, cleaning clothes, intervalometer and a drink. The ability to fit a tripod into a purpose build carrier means my hands a free whilst walking to and from locations.
I am a large man and with many backpacks I find they do not sit comfortably whilst walking, this is not the case with this bag due to the adjustable shoulder and waist straps. Despite having it for over a year it still looks as good today and the day I bought it.
Mochila Grande da Câmera DSLR para Fotografia 11.41*6.69*18.11inches
Excellent customer service / Excellent product
Bought this in the lightning deal on 22/3/19 and received it 24/3. Nice looking sturdy bag, good layout and just perfect for me and my kit. Only downside was i never received the memory card ( never really bought it for camera cleaning kit / memory card, price was too good on deal ) I contacted customer service via chat and after 10 mins the issue was resolved. As my headline says the customer service was more than 10 out of 10 so really happy with service and the bag.
These images belong to K&F Concept end users.