Filtro ND2-ND400 Variável (1 a 8 2⁄3 stops), Ultrafino, multi-revestido, diâmetro 77mm, modelo KV33
&Frete GRÁTIS nos países elegíveis
Marca:

K&F Concept

Compre K&F Concept filtro nd2-nd400 variável (1 a 8 2⁄3 stops), ultrafino, multi-revestido, diâmetro 77mm, modelo kv33 online, frete grátis e garantia de devolução de 30 dias.

KF01.1392

Modelo:

KF01.1392

185

https://br.kentfaith.com/KF01.1392_kf-kv33-77mm-nd-fader-filtro-de-densidade-neutra-variável-nd2-a-nd400-para-lente-de-câmera-ultra-fina-multi-revestido
Buy R$550+ Save R$50, Buy R$1100+ Save R$125
Características
• Filtro ND2-400 variável, reduz a entrada de luz de 1 a 9 f-stops.
• Feito com tecnologia ótica profissional, com revestimento azul de multicamadas, para ajudar a repelir a água.
• Os filtros ND são bons para conseguir um efeito suave em corpos d'água movimentados como rios, cachoeiras e mares, especialmente sob luz forte.
• A estrutura do filtro é de apenas 7,3 mm, e o anel CNC super leve usado na sua construção evita efeitos adversos como vinhetas.
• Este filtro é compatível com todas as lentes de 77 mm. Verifique o diâmetro do elemento frontal da sua lente (normalmente marcado em algum lugar no corpo da lente, ou impresso embaixo da tampa da lente) antes de fazer o seu pedido. O número é sempre precedido pelo símbolo ø (diâmetro).
Filtro variável K&F KV33 ND2-400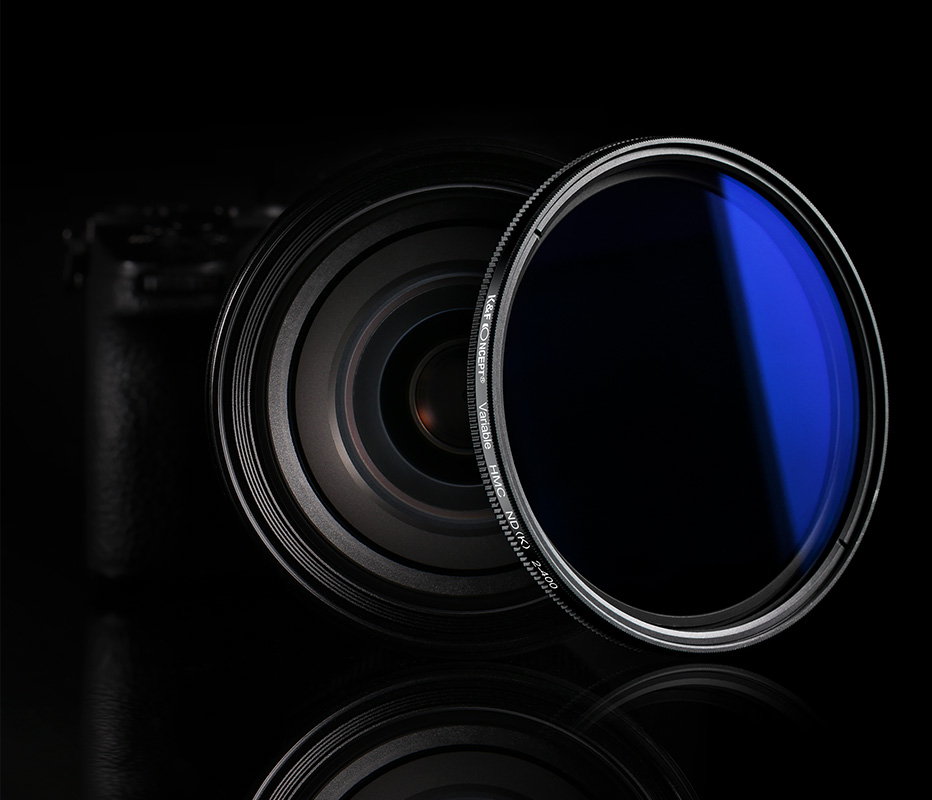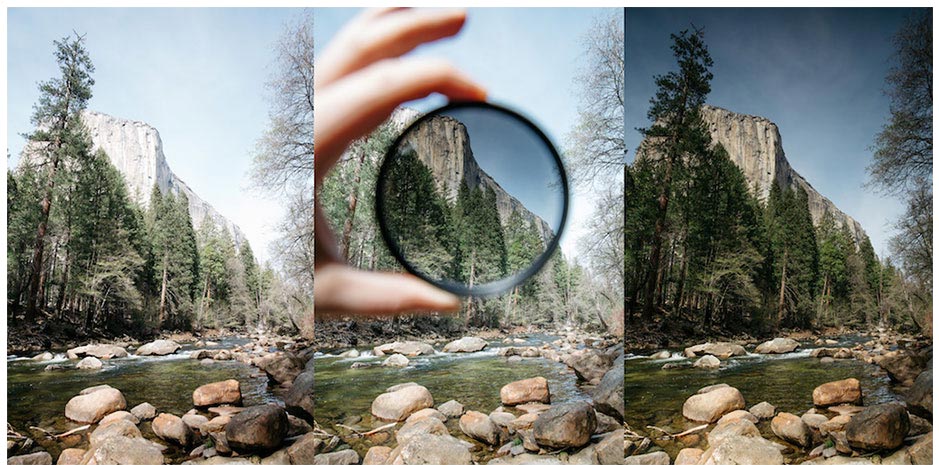 Sem filtro ND
Usar contraste
With ND Filter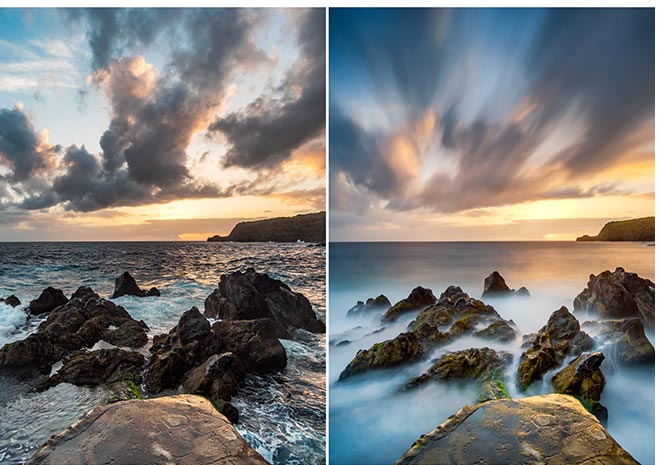 Sem filtro ND
With ND Filter
Permite que velocidades lentas do obturador sejam usadas para gravar movimentos em objetos como cachoeiras, proporcionando um efeito suave e sedoso à água corrente.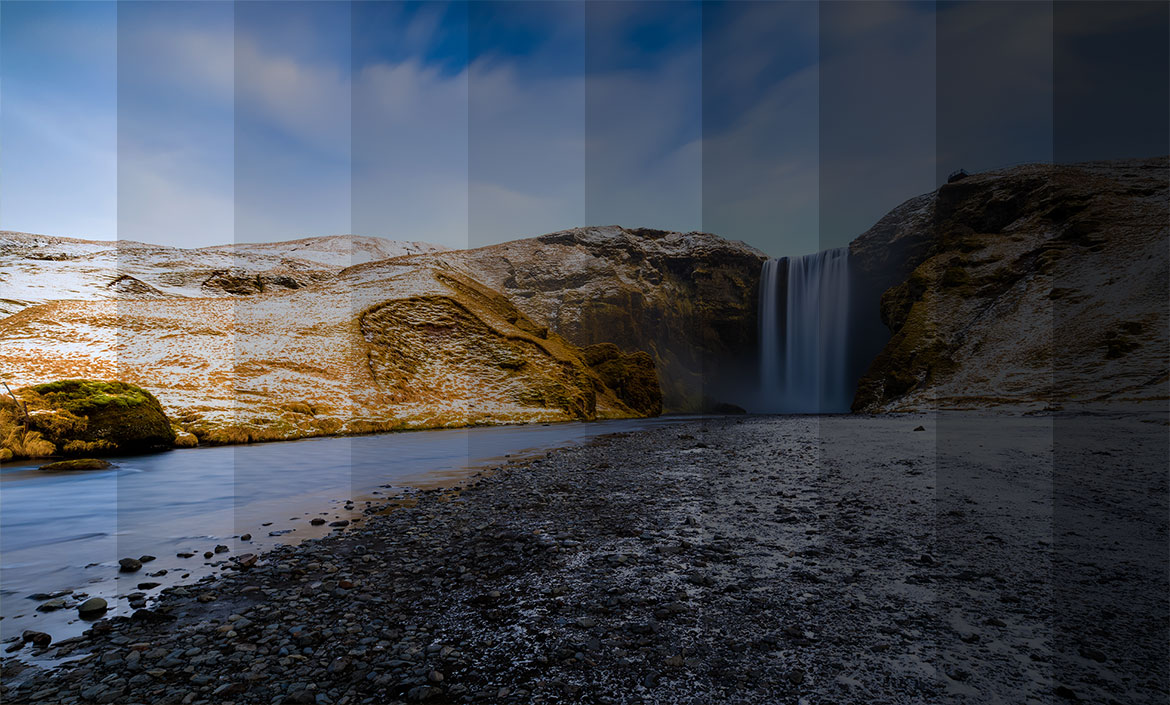 NO ND
ND2
ND4
ND8
ND16
ND32
ND64
ND128
ND256
ND400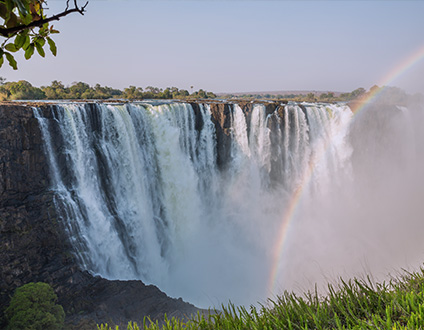 Sem filtro ND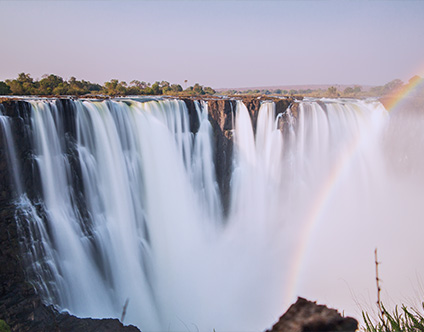 With ND Filter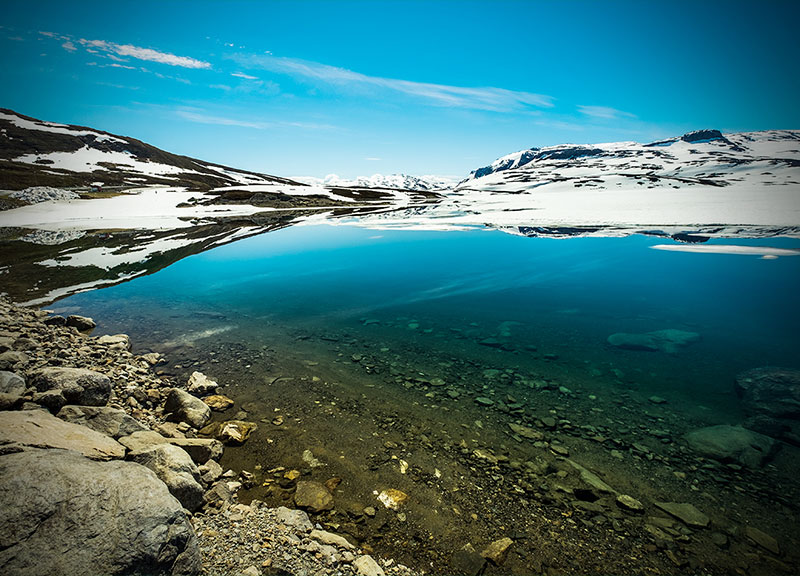 De outros
A borda é grossa, causando vinhetas ao redor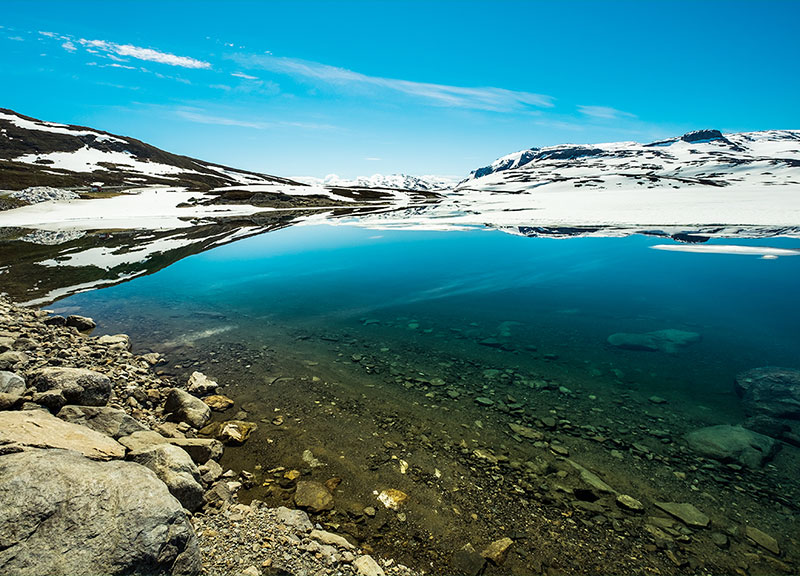 K&F Concept
Design de moldura fina para garantir nenhum canto escuro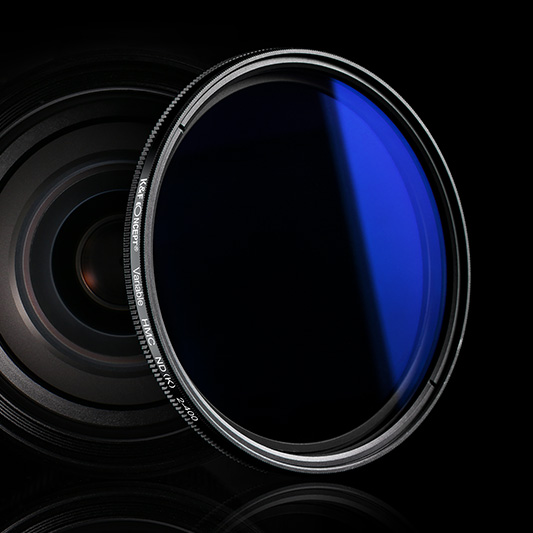 Quadro de padrão requintado
Frame trapezoidal do teste padrão do CNC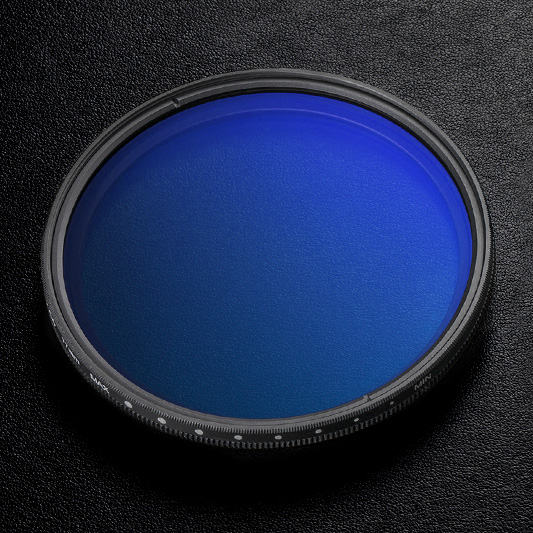 Revestido em ambos os lados
Redução da dispersão da luz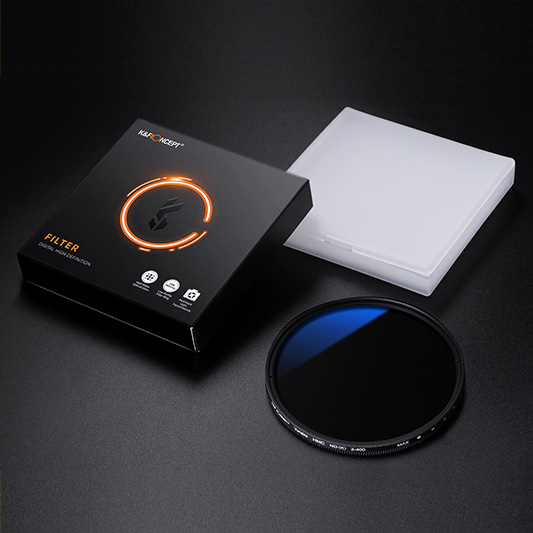 Exquisite Box
evita danos durante o transporte
| | | | |
| --- | --- | --- | --- |
| NDnumber | Densidade ótica | redução f-stop | Transmitância fracionária |
| | 0 0 | 0 0 | 100% |
| ND2 | 0,3 | 1 | 50% |
| ND4 | 0,6 | 2 | 25% |
| ND8 | 0,9 | 3 | 12,50% |
| ND16 | 1.2 | 4 | 6,25% |
| ND32 | 1,50 | 5 | 3,13% |
| ND64 | 1.8 | 6 | 1,56% |
| ND100 | 2 | 6 2 ⁄ 3 | 1% |
| ND128 | 2.1 | 7 | 0,78% |
| ND256 | 2.4 | 8 | 0,39% |
| ND400 | 2.6 | 8 2 ⁄ 3 | 0,25% |
| ND512 | 2.7 | 9 | 0,20% |
| ND1024 / ND1000 | 3 | 10 | 0,10% |
| ND2000 | 3.3. | 11 | 0,05% |
| ND4000 | 3.6. | 12 | 0,025% |
| ND8000 | 3.9 | 13 | 0,0125% |
| ND32000 | 4.5 | 15 | 0,003% |
Great VND for the price. Easy to use. Will help open up your lens and save your lights
I have had this VND for a little over a month now and I can say it is a very useful bit of kit to have in the bag.Natural light shooters will appreciate being able to cut down light to shoot at wider apertures, and strobists will like that plus the ability to stop down ambient light to match strobe lighting without having to go into HSS.I haven't tested it with video, as I primarily shoot stills, but for the film shooter on the go, this would be very useful.Quality seems to be there, its a metal filter, and the glass elements seem well constructed. I was able to count hairs on heads, so the effect on a cameras resolving power seems to be little to none, which is good. Autofocus on the a9 and the 70-200 GM seemed to be fineIt comes with a little plastic case, which fit nicely into the bag without taking up too much space.The adjustment of the filter is obviously easier without the lens hood, even though the 70-200 GM has a built in access for adjusting VND'sI did a quick backyard test with my son to illustrate the exposure versatility of VND and it does indeed provide 9 stops of exposure adjustment. Having that flexibility is useful for many different types and styles of video and photography. I provided a composited image showing the 10 frames I shot.I also included an image where I used the filter to allow me to slow down the shutter, and turn the water circling around a boat into something with a more dreamy, or painterly effect.The last shot is using the reflective blue tint on the filter element to reflect the clouds over the image of the boat to create a double exposure look, the VND allowed me to only cut some of the light and still create a reflection, opposed to using a cell phone, or a mirror which are totally opaque. to do this, i took the VND off the lens and angled it in front with my hand until I got the composition i wanted.Few tips for people new to using filters or VND's, don't over tighten the filter onto the lens. These things are made to be lowprofile and have fine threads, so go easy. There is a tick mark on the non-rotating part of the VND. Make sure you adjust the rotating marks on the filter off the position of the non-rotating tick mark. There are no clicks, or hard stops, just a fluid movement, so keep an eye on your adjustments if your moving around a lot. lighting conditions can change. Lastly, you shouldn't be using this indoors, unless you are trying to hss lights or purposefully cut lighting. VND's of all kinds typically don't have a neutral setting, so they are always cutting down some amount of light. Typically, indoors you want to be gathering as much light as your can. So when you come indoors, pop the filter back in the bag.Overall, I would recommend this VND filter. There are much higher priced VNDs out there, but if you're here, then your probably not looking at the $200+ VNDs on the market. This is a good filter and will get you great results, plus the blue tint on the glass element looks really cool.I have really enjoyed shooting with the VND, hope you like yours
2020/07/29 00:00:00
Well balanced, variable shading glass.
Fired off a few test pics yesterday, and images seem very balanced. No odd shading, firm but smooth operation. No detents at end of travel, so be mindful of Min/Max markings. Only surprise was it won't work with my lens cap (77mm), so I have to keep it in the protective box until I want to use it.
2021/04/06 00:00:00
I luv it
Great affordable product
2020/10/02 00:00:00
Would not let my camera auto-focus precisely
This filter would not let my camera auto-focus correctly. I could manual focus, but something must have been throwing the camera/lens off. It also added a slightly warm hue to the picture that I was not expecting. The filter itself felt nice, fit perfectly, and came packaged nicely. Just didn't work for me, but amazon return made it an easy experiment.
2020/09/07 00:00:00
Great deal!
My photos of water and sky views have drastically improved by using this filter.
2020/08/16 00:00:00
These images belong to K&F Concept end users.
K&F KV33 ND Fader Variable Neutral Density Filter ND2 to ND400 for Camera Lens Ultra-Slim